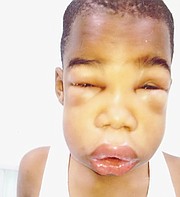 By RICARDO WELLS
Tribune Staff Reporter
rwells@tribunemedia.net
THE FAMILY of six-year-old Tarique Miller has renewed a plea for financial assistance to help cover the cost of potential "life saving" treatment for the child.
Angelica Miller, the child's mother and Marie Miller, her grandmother, said that the family is far from the $200,000 needed for young Tarique to travel to the Joe DiMaggio Hospital in Florida for the treatment.
Marie Miller said that in October the family received written notice from the Princess Margaret Hospital that the facility would be unable to treat young Tarique and requested that the family seek further evaluation.
The letter dated October 3 read: "This letter serves to confirm that the above mentioned patient is under my care. He has a condition that requires laboratory evaluation which cannot be done here in the Bahamas."
The letter continued: "On the advice of a paediatric allergist, it has been recommended that Tarique travel to Joe DiMaggio Hospital in Florida for this evaluation."
In mid-November, the family, with the assistance of Social Services, raised enough money to take the six-year-old to Florida.
The Millers said it was at this point the family's worst fears were confirmed.
"They told us that he had a complete case of hereditary angioedema," his mother said.
"They told us it was a 50 per cent chance he could be treated with regular injections, but because it was a 100 per cent diagnosis, he would need full treatment."
Hereditary angioedema (HAE) is caused by a low level or improper function of a protein called the C1 inhibitor. With HAE, the blood vessels are affected. An HAE attack can result in rapid swelling of the hands, feet, limbs, face, intestinal tract, larynx (voicebox), or trachea (windpipe).
Attacks of swelling can become more severe in late childhood and adolescence.
Tarique's mother said doctors in Florida gave them a new start date to return to the state for the needed treatment, which was set to begin yesterday.
The family is unable to foot the bill and has requested that the Bahamian public assist them through this tough ordeal.
"He was six pounds at birth, I have watched him grow and battle with this," his mother said. "I just want him to be able to do the things he likes without the pain and suffering. I want him to play basketball, run and have fun, the way kids are supposed to."
Those who wish to provide assistance should contact Ms Miller at 431-6536.