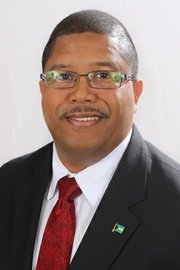 By KHRISNA VIRGIL
Tribune Staff Reporter
kvirgil@tribunemedia.net
FNM Deputy leader Peter Turnquest yesterday criticised the government's decision to delay announcing the strategic partner for the Bahamas Electricity Corporation's restructuring, calling it a "smoke screen" because of a lack of direction on the initiative.
Deputy Prime Minister Philip "Brave" Davis told reporters on Friday that the announcement was expected after discussions and interventions were made at an energy security summit in Washington, DC.
Prime Minister Perry Christie and a delegation will return from the summit tomorrow where United States Vice-President Joseph Biden delivered the policy position of his country on energy security for the Caribbean.

"I don't understand what Mr Biden would have to do with BEC in terms of vision unless he is offering the government financial assistance or a strategic plan to help with BEC," Mr Turnquest said when contacted for comment.
"Otherwise I don't see why there is a delay again. I think the Christie administration, as usual, is trying to buy the time they need. It is just a smoke screen to the continuation of the usual disorganised and lack of coordination song and dance that we often see with this government."
He said it was embarrassing that since the government announced plans to restructure BEC, Bahamians were still for the most part unclear on how they would benefit.
"A responsible government would have explained to the Bahamian people on how they would achieve this restructure and how they intend to reduce the cost of electricity because it simply is too high. That is what a competent government would do.
"Most people are feeling lost because there is no coordination from the government."
Mr Christie first announced plans to reform BEC in August 2013.
At that time, he said, two separate companies would take over the management and power generation at BEC. He said the contracts would be signed at the end of 2013.
However last December, 16 months after the initial announcement of the plans for BEC, Mr Davis added further confusion and speculation over the matter when he confirmed a Tribune Business report that the government had abandoned its previous plans for a split.
Instead, it is expected that one company will be selected to manage the corporation.