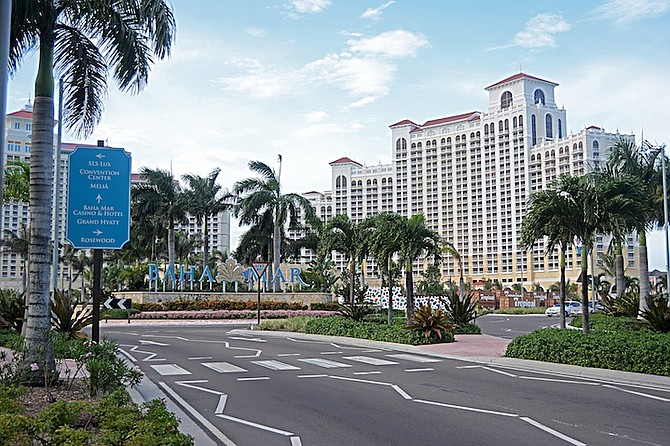 By KHRISNA VIRGIL
Tribune Staff Reporter
kvirgil@tribunemedia.net
BAHA Mar executives have shown "a great degree of disrespect" and "contempt" for the this country after reportedly blindsiding the government on its Chapter 11 bankruptcy filing which will without doubt spark a domino effect on the economy, former Deputy Prime Minister Brent Symonette said yesterday.
While Mr Symonette admitted that bankruptcy filings are usually handled with great sensitivity and secrecy, he criticised Baha Mar's CEO Sarkis Izmirlian saying in the name of a good working relationship, Prime Minister Perry Christie should have been notified of the move.
On Tuesday night, Mr Christie admitted during a press conference that the government was caught off guard by the bankruptcy filing, which he said came "without notice" on Monday.
Mr Christie said the decision by Mr Izmirlian came at a point when his personal intervention with all parties involved led to a substantial agreement on a packaged solution for additional funding by the China Export-Import Bank, Baha Mar's financier.
This deal was going to ensure that the general contractor, China Construction America, resumed construction at the West Bay Street project and that the mega-resort was completed, Mr Christie said.
" . . .This shows a degree of disrespect and contempt for the government of the Bahamas," Mr Symonette said.
"I would have hoped that the developers would have at least let the government and, especially Mr Christie, know since they claim to want a good working relationship."
Most troubling, Mr Symonette told The Tribune, is the inevitable implications which are to come to scores of small business owners who extended their lines of credit to do business with the $3.5bn project.
He said the real estate market could possibly suffer if expatriates are forced to return to their homes in the aftermath of the project's financial woes.
"What hasn't come out yet is what China (Construction America) owes Bahamian businesses," he added. "We haven't heard of those numbers yet and those people would have had to gone to the bank and stretched their lines of credit.
"I can tell you there are a lot of local companies that have not been paid. There is one businessman that I know who is owed $180,000. This is a one-man operation that we are talking about so imagine his plight. I doubt Bahamians in this situation will be able to recoup 100 pennies on the dollar.
"So this is a real domino affect and it will ricochet down the line."
Following the announcement of its Chapter 11 bankruptcy filing, Tribune Business reported that Baha Mar owed more than 1,000 trade creditors an estimated $123m.
Court documents revealed that the Bahamas Electricity Corporation (BEC) is the second largest unsecured creditor behind the project's contractor. BEC is owed $19.5m for energy supplies, the documents said.
In addition, Peter and Tom Whitehead were said to be owed $5.28m for construction services.
Other Bahamian-based businesses owed money by Baha Mar include TBI Caribbean at $2.35m and Island Site Development at $1.15m. Cable Bahamas is also owed $1.15m, among others, according to court documents.