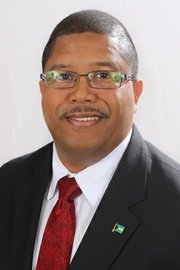 By AVA TURNQUEST
Tribune Chief Reporter
aturnquest@tribunemedia.net
THE decision to implement value added tax on the toll at the Sidney Poitier Bridge to Paradise Island has been criticised as another burden on the working class.
On Friday, the Bridge Authority announced that the toll would increase by 7.5 per cent next week. Officials announced that the collection of VAT on the toll fare for all vehicles would begin as of midnight on July 13.
Yesterday, Free National Movement Deputy Leader K Peter Turnquest lamented the impact of the increased taxation on the working class commuters.
"These people who are going to be paying this toll are primarily the workers going over to Paradise Island to work," he said.
"I think it just represents another taxation on those people, most of whom are in the lower to middle income bracket. It just seems to me a bit unfair to be taxed to go to work, other people going to their jobs don't have to bear that kind of taxation, why should those people bear that?
"I think that it's unusually harsh to tax people for the privilege to go to work, and now here you are going to take another eight cents per day.
"At some point it becomes too much," he added.
When contacted for comment yesterday, Minister of Tourism Obie Wilchcombe said that while he did not know much about the new measure, the bridge toll had not seen an increase in a long time.
He expressed confidence in the authority's ability to effectively manage the changes.
The toll for single axle vehicles will increase from $1 to $1.08; $2 becomes $2.15 for double axles; and $3 becomes $3.23 for triple axle vehicles.
VAT will also be added to the issue of transponders, smart cards and all top up transactions, the statement released on Friday read.
Further restructuring will take place next month when "cash only" lanes will be reduced from three lanes to lanes one and two only, prompting fears from some observers of increased traffic on the bridge.
Lanes three and four will be for transponders and smart cards only, according to the statement, which indicated that fines will be imposed on persons violating the use of those lanes.
The statement read: "The Bridge Authority apologises for any inconvenience that may be caused and assures its customers and stakeholders that all efforts are being made to ensure the efficient operation of services to our customers are minimised."
Labour Minister Shane Gibson, who has responsibility for the Bridge Authority, declined to comment when contacted yesterday.
Bridge Authority Direct Melissa Hall did not respond to messages left up to press time.
VAT was implemented on most goods and services on January 1.