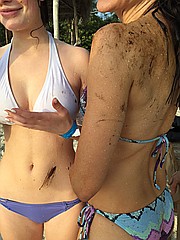 By RICARDO WELLS
Tribune Staff Reporter
rwells@tribunemedia.net
THE environmental advocacy group Save the Bays has left "the door open" to filing legal action against the government for what it is calling "a breach of statutory powers and duties" resulting in a devastating impact on marine life due to ongoing Clifton oil leaks.
CEO of Save the Bays, Vanessa Haley-Benjamin said: "Legal action is never the preferred way to go, but there is so much at stake with human life and health in the wake of the Rubis oil leak and environmental degradation that is ongoing at Clifton Bay that in the face of promises without signs of action we have little choice but to hold our elected leaders and our officials accountable.
"If that means seeking legal recourse, we cannot shrink from it. At this moment, the door is still open," she said.
Representatives of STB confirmed that the group recently sent a letter to Environment Minister Kenred Dorsett, seeking a meeting to discuss the continued emission of oil at Clifton Bay.
The organisation said it has not received a reply to that letter or its requests dating back to last year.
"STB is very concerned about the frequent oil spills, oil leakages, possible water table contamination, toxic and hazardous air emission, and land contamination as a result of the industrial activities in the Clifton pier area," the letter read.
The letter also noted that government had acknowledged the fuel spill of late 2014 and the minister himself said government would spend up to $10 million on remediation and preventive measures.

"In the wake of an oil spill in October 2014, which resulted in an 'extraordinary amount of fuel off the south-west coast of the island of new Providence,' your ministerial statement to Parliament admitted that fuel was being discharged from the Bahamas Electricity Corporation (BEC) outfalls," STB officials wrote in the letter.
The statement also acknowledged that the BEC containment booms were failing to prevent all of the emitted fuel from spreading throughout the marine environment.
Despite "an impressive array of powers" to deal with the issues, STB claimed the persons entrusted with responsibility had failed to contain the fuel or to "fulfil their duty to conserve the unique marine and terrestrial environments of the Bahamas, and to protect the public health."
Meanwhile, attorney and consultant Romi Ferreira, a member of STB's legal team, labelled the conditions at Clifton "a perfect storm" for environmental destruction if not monitored and controlled.
Mr Ferreira insisted that the combination of unregulated development, pressure from residential communities on the shoreline, the island's heaviest industrial users – oil tankers and offloading depots – and the BEC plant with Bunker C diesel running antiquated generators all concentrated in one area have threatened the adjacent water.
Divers and snorkelers with underwater cameras have been capturing and posting images of oil damage to underwater artwork, the Coral Reef Sculpture Garden.
The Sculpture Garden is home to the world's largest underwater sculpture – "Ocean Atlas" by Jason de Caires Taylor.
Last week, Bahamas Reef Environmental Educational Foundation (BREEF) Executive Director Casuarina McKinney-Lambert said that the "unbearable" Clifton Bay oil leak has negatively affected the "precious marine environment, human health, livelihoods and the reputation of The Bahamas around the world."
The reported damage to the Clifton Bay dive sites and reefs – estimated to be as much as 40 per cent degradation in less than five years by representatives from international group the Waterkeeper Alliance – is part of what Save The Bays sees as a larger picture of "too little attention to the marine and land resources of the country and too little action following environmental incidents."