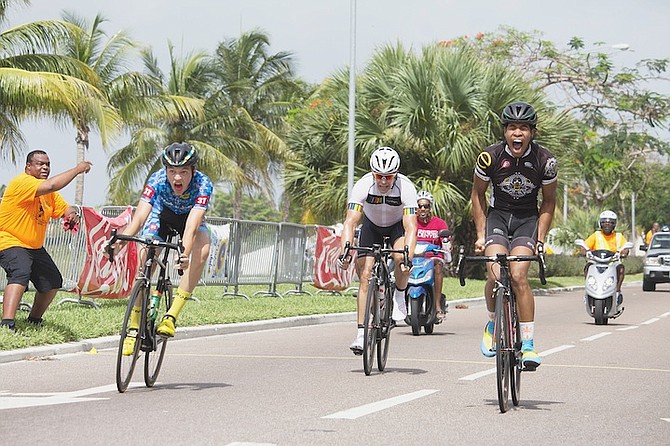 By BRENT STUBBS
Senior Sports Reporter
bstubbs@tribunemedia.net
History repeated itself as Liam Holowesko captured the time trials, but he got nipped out again at the tape by Jay Major in the road race as the Bahamas Cycling Federation staged its annual National Cycling Championships over the weekend.
Holowesko, fresh off his participation in the United States of America Cycling Championships last month in Fort Lauderdale, Florida, posted the fastest time of 49 minutes and 25 seconds in the 22-mile time trials around the western end of the island on Saturday.
However, on Sunday in the 72-mile road race that started and finished at Goodman's Bay, Major out-pedalled Holowesko at the finish line to retain his road race title.
The gruelling 74-mile race was so close that only a tenth of a second separated the top three.
Major was timed in three hours, 13 minutes and 20 seconds, followed by Holowesko in 3:13:11 and Chad Albury, who was second in the time trials in 50:38, got third in 3:13.12. Former champion Lee Farmer was fourth in 3:14.30 and Chris Curry rounded out the top five in 3:15.28.
For Major, there's no better feeling than being crowned the champion - again. "It feels just as great as the first time last year because I won it again," said the 20-year-old Major. "The race was pretty tricky. It was hard. It started off pretty easy, but midway through the race, we let the break away get away from us with about a four-minute gap.
"It was a really dangerous break so the whole team went and chased it down. I was the protected rider for my team so I have to give it up to my team-mates. We had one more break away near the end, but we shut that down too and I noticed that everybody was a little tired, so I made a break with Chad Albury and Liam Holowesko and we went together from there."
As for the sprint, Major said he knew that once it was close, he had the best chance to win and it played out to perfection as his front wheel crossed the line just ahead of Holowesko with Albury not too far behind.
"I was expecting it to come down to a sprint, but I wasn't expecting it to be as hard as it turned out," Major said. "It was good for me to get this win after I came in fourth in the time trials."
Although he got fourth in the time trials in 54:26, Major said he was waiting to power through in the road race and his plan came to fruition as he waited for the right time to strike against Holowesko, who led for the majority of the final stage of the race.
Holowesko, the youngest member of the elite field of competitors at 14 years old and six-feet tall, said he was quite pleased with his performance.
"After winning the time trials, I knew that the road race was going to be difficult because everybody was watching me," said Holowesko, who attends Deerfield Academy in Massachusetts.
"All of them did their job watching me and they made it entirely impossible for me to win. I really wanted to win."
If there was one thing Holowesko wished, it would have been to have opened up a much larger lead on the field.
"I'm not the best sprinter. Jay is a much better sprinter, so I knew I had to get an early jump on him, but I just couldn't hold the lead," he said. "I thought I had it, but he was able to come back too strong at the end."
Holowesko, however, said he will take comfort in the fact that he repeated as the time trial champion and he left it all on the line as he battled it out for the victory in the road race, but he fell short at the line.
As the more experienced competitor in the field, Albury noted that the young legs really prevailed as he congratulated both Holowesko and Major for their repeat performances.
"We figured that it would be tough with Liam coming in having just finished third in his age group in the USA National Time Trials," Albury said. "He had a great showing yesterday, winning that strongly. So today, it was all about watching Liam from our standpoint and watching how it all played out. There was some debate going on with the lead with Lee (Farmer) and a bunch of guys taking the first breakaway in a four-minute gap. So we had to reel that in.
"After that, on the second half of the race, we had another break away and we closed that gap in before Liam eventually went out in a small lead by himself and me and Jay went after him and it came right down to the sprint."
One thing that the nationals showed more than anything else is that the local cyclists are ready to compete at a much higher level of competition and Albury said they hope to go to Barbados in October and make an impression.
BCF's president Roy Colebrooke said they couldn't ask for a more competitive weekend.
"It was very competitive with a repeat of last year with Liam Holowesko winning the time trials and Jay Major winning the road race," Musgrove said. "The only way I can describe it was that it was fierce. It only speaks for the level of cycling in the Commonwealth of the Bahamas."
Musgrove, who serves as a vice president of the Bahamas Olympic Committee, said that as a result of the reduction in the quota for athletes competing in the Pan Am Games, cycling was excluded on the Bahamas team going to Toronto, Canada, this week.
"We are disappointed, but we know where our faults are," Musgrove said. "As a result of that, we will work on improving them to ensure that we make other regional games and eventually qualify for the Olympic Games next year."