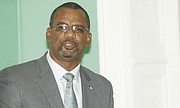 By RICARDO WELLS
Tribune Staff Reporter
rwells@tribunemedia.net
MARATHON MP Jerome Fitzgerald yesterday lashed out at critics he claimed attempted to politicise the 2012 Rubis fuel spill and take advantage of residents who might have been negatively affected.
Mr Fitzgerald said that while the government's approach to addressing the issue may have not effectively communicated their stance on remediation, the Christie administration's commitment had always been with the people of Marathon.
He said that instead of helping the residents of Marathon and the wider population understand what was really happening "their tactic was riddled with promoting negativity, fear mongering and sowing seeds of distrust".
His comments came after Health Minister Dr Perry Gomez released the preliminary findings of a report by independent toxicology expert Dr Rik van de Weerdt with the Pan American Health Organisation.
Dr van de Weerdt found the health risk assessments carried out on 223 persons in or around the Marathon area concluded that, at this time, there were no long term health effects detected.
The government's refusal to make a Black and Veatch International report into the spill public for more than a year ignited a national firestorm, with many critics ridiculing Mr Fitzgerald for his continued silence during that period. The Marathon MP later indicated his silence was the result of a decision made by the Cabinet
Mr Fitzgerald said the delay in making the Black and Veatch report public was due to the Attorney General not authorising its release.
He said at that time: "I am not going to question the Attorney General's reasons and rationale for making that decision. I have confidence that the Attorney General knew what she was doing and I support her decision in that regard."
Tensions heightened in May after area residents took issue with a group of Progressive Liberal Party (PLP) supporters who ushered Mr Fitzgerald into a town meeting held to facilitate communication between them on the best way forward.
Sources insisted that the crowd consisted of a number of "high-ranking PLP generals" and people gathered by the party to support Mr Fitzgerald.
Yesterday, Mr Fitzgerald thanked the residents of Marathon for their patience and support. "I would say I was both humbled and proud that even though there were those who chose to use this incident for political points, you were not taken in by them. This matter like anything in our constituency is about us – black, white, rich, poor, PLP, FNM. It is about all of us," he said.
"Marathon, you have my commitment and you have the commitment of the government of The Bahamas. We will continue to work on behalf of the interests of Bahamians," he added.