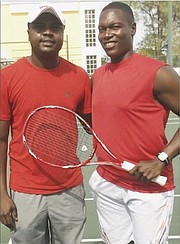 By BRENT STUBBS
Senior Sports Reporter
bstubbs@tribunemedia.net
PHILIP Major Jr has his bags packed and is ready to leave town today to compete in the 17th Pan American Games.
Major Jr, 19, will be the only tennis player to compete on the team coached by Ricardo Demeritte Jr. The duo will be a part of the delegation selected by the Bahamas Olympic Committee to compete in the games July 10-26 in Toronto, Canada.
"It feels good. It feels good to know that I've gotten the opportunity to travel and play the event. It only happens once every four years, so for me, it's a great opportunity and I'm really thankful for it," Major Jr told The Tribune as he watched the ITF Junior National Tournament at the National Tennis Centre before his departure.
Elwood Donaldson, president of the Bahamas Lawn Tennis Association, said they are extremely proud of the achievement of Major Jr. Donaldson said they were hoping to have Kerrie Cartwright traveling on the team as well, but the BOC wasn't able to get her included.
"Philip Major Jr has been one of our tennis players who has been actively pursuing a professional career," Donaldson said. "He has made it out of the qualifying round of several ATP Tournaments and has come very close to getting an ATP point, which was why he was chosen as a wild card by the ITF to participate in the Pan Am Games.
"His exceptional performance on the tour without a point was one of the reasons why he was selected. We had submitted Kerrie Cartwright's name as well, but she wasn't able to get in. We are very proud of Philip Major Jr. He's been doing very well and we figure that if he can continue on this path, he will have some ATP points within the next four years.
"He's been doing very well and we are very proud of him and we know that he will do very well when he goes to the Pan Am Games."
When he got the news that he will be travelling, Major Jr said he was extremely happy.
"I felt I deserve to get in and I also feel that I will be able to go there and do very well at the games," he said. "I was also happy to know that I will get to represent my country because it's always an honour to do that. I've been very consistent lately, so I am happy with my accomplishments because I know I worked hard enough.
"So God put in place the opportunity for me to travel to these games. I guess all the hard work has paid off."
Returning from an injury that prevented him from making his second national team for the Davis Cup last year, Major Jr said he did all of the necessary things to be selected to travel to the games and he's confident that he will produce a very good showing.
"I just want to be able to do my best and whatever my best brings out in me is what I expect," he said. "So hopefully with my best performance, I will be able to go very far in the competition."
The competition, Major Jr admitted, won't be that easy.
"I hear that we will be having some competitors who are in the top 100 in the world," he said. "So knowing that I am able to compete with these guys at that level is a very good accomplishment for me."
As a very demanding sport, Major Jr said he feels that he has paid his dues and it's all coming together for him.
"You can get discouraged in this sport, but you have to know what your capabilities are and believe in it," he said.
With little time left before the games get underway, Major Jr said the only thing he can do is continue to practice and maintain his level of fitness so that he can perform at his best.
Demeritte Jr, who had the opportunity to travel with Major Jr when he competed as a junior, said he's delighted with the progress he has made and is looking forward to him putting on a fantastic performance in Toronto.
"I hope that he can get a good experience because he's been playing very good on the tour," Demeritte Jr said. "So I expect him to do pretty good. It would be good if he can win a few rounds and go deep in the tournament. But just to get through a couple of rounds would be good."
Looking at his performance at this point, Demeritte Jr said Major Jr just needs to make a few minor adjustments. "He's a big left hand server, so he needs to take advantage of that," Demeritte Jr said. "But he can get to the net and serve and volley, he should be oky."
Major Jr and Demeritte Jr will be a part of a 36-member team representing the Bahamas in athletics, swimming, boxing, tennis and gymnastics.