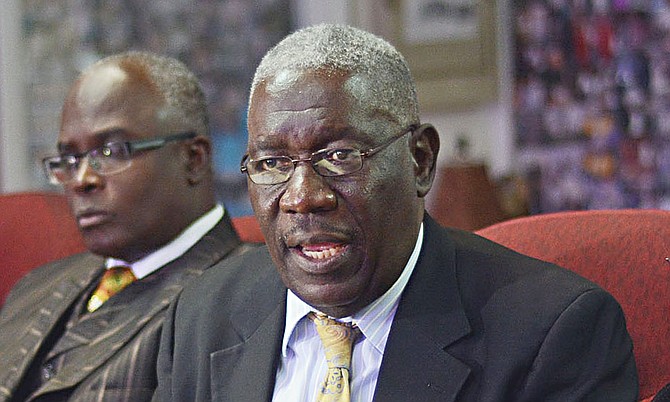 By NICO SCAVELLA
Tribune Staff Reporter
nscavella@tribunemedia.net
BISHOP Simeon Hall yesterday said he supported the government's decision to pay the salaries of more than 2,000 Baha Mar employees despite not yet honouring its promise to assist the thousands of people who lost millions of dollars when CLICO (Bahamas) collapsed.
Bishop Hall, pastor emeritus of New Covenant Baptist Church, said Baha Mar employees are in an "equally precarious" position as the thousands of CLICO policyholders. Bishop Hall, a CLICO policy holder, said while he is "trying to walk down the middle road" with respect to both matters, he supports the government's intervention so long as it will "help progress" the resolution of the Baha Mar crisis.
Bishop Hall also decried those individuals who suggested that the government was setting a bad precedent for existing and future labour disputes by opting to pay the salaries of Baha Mar employees.
"I support the effort of the government to ameliorate this entire situation with Baha Mar, and if the payment of their salaries for a time will help progress that situation then I support it," he told The Tribune yesterday. "At the same time I understand that the government will in fact be making an announcement referencing CLICO. So for me it's not an 'either-or,' it's a 'both-and.'"
He added: "I don't want to pit one against the other as having more importance. I support the government supporting the people at Baha Mar and at the same time I support the idea that it should try to address all of these lingering situations where workers are concerned."
Bishop Hall said he is organising a church service for the workers of Baha Mar at New Covenant Baptist Church on Sunday.
Last month, Baha Mar and 14 affiliated companies involved with the mega-resort, filed for Chapter 11 bankruptcy in the United States.
The $3.5b mega-resort subsequently advised more than 2,000 of its employees not to return to work until further notice, pledging to pay their salaries for a period, as it awaited the outcome on its bankruptcy claim.
Last week the government said it would foot the estimated $7.5 million a month bill to pay the resort's workers, in a bid to block them from being used as "pawns" in the resort's bankruptcy claim.
However, some have raised concerns over the government's intervention in the matter. Bahamas Chamber of Commerce and Employers Confederation (BCCEC) CEO Edison Sumner, has reportedly said that the move by the government could open "Pandora's Box" for businesses and workers seeking lost or outstanding compensation due to similar economic hardships.
However, Bishop Hall said yesterday: "I disagree wholeheartedly. Sometimes in critical moments we have to do some unpopular things.
"Baha Mar is a large investment that's going to resonate for the next several decades in Bahamian society," he added. "I think the government is looking at the whole picture. I decry those persons who would in any way politicise this exercise and at the same time those who might be thinking for selfish reasons that the government is setting a bad precedent.
"What do you do to the 2,000 people who might lose their jobs? I suppose the business community, the Chamber of Commerce, they are credible people, but in a crisis situation like Baha Mar, the government has to do something that is out of the box."
On Tuesday, Prime Minister Perry Christie said he has set a date to hold mediated discussions at a mutually agreed location with Baha Mar executives, the resort's general contractor China Construction America and the China Export-Import Bank this weekend. At the time, he said Baha Mar had yet to agree to the invitation.
That came hours after the Supreme Court accepted an adjournment request by Baha Mar's legal team into a hearing on whether it will ratify a Delaware's bankruptcy court's approval to allow the resort to access $80 million in debtor-in-possession financing.
In March, Mr Christie said his administration has not abandoned its efforts to bring relief to the thousands of Bahamian policyholders who lost millions due to CLICO's collapse.