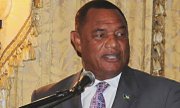 By KHRISNA VIRGIL
Tribune Staff Reporter
kvirgil@tribunemedia.net
THE Office of the Attorney General has not acted on a purported threat to take back Crown land from the developers of Baha Mar, the nation's leader telling reporters the move was to ensure that the property was not caught up in the resort's bankruptcy proceedings.
According to Prime Minister Perry Christie yesterday, the government served legal notice to attorneys of Baha Mar with a view to safeguarding the Crown land against being claimed as property of developer Sarkis Izmirlian.
Mr Christie said: "The legal agreements entered into with Baha Mar gave notice to the parties that if there were going to be bankruptcy proceedings or anything related to that, the government had a limited time to serve notice to protect its rights on the property.
"So what we did was we served notice on his attorneys of our rights to not have that property adjudged as his in any bankruptcy proceedings. That is all we were doing."
He added: "But that sits there not acted upon but the legal notice has been given which secures the rights of the people of the country.
"Once the bankruptcy proceedings started, our lawyers moved immediately and spent all night reviewing the agreements and where the agreement provides that the government in the face of these developments must take action, we took all the necessary action to protect ourselves legally."
Mr Christie spoke on the matter following the grand opening of the Approach Control Centre for the Lynden Pindling International Airport's new radar system. The facility will propel The Bahamas to a top contender in air traffic control in the region, officials said.







On Monday, The Nassau Guardian reported that the Office of the Attorney General filed a writ to reclaim Crown land from Baha Mar's developers.
According to the report, the writ filed stated that Baha Mar and the government entered into several agreements in 2005 connected with the resort's development.
All of the agreements, stipulated that in certain instances if the $3.5b resort failed to meet certain obligations by dates which were contracted, the government could use its right to serve developers with notice to reconvey properties it purchased as part of the deal.
The Crown land properties include the John F Kennedy Drive connector plot, old West Bay Street plot, the Nassau Beach plot, the Wyndham plot and the old Hobby Horse Hall plot.
Contained in an agreement signed by Mr Christie on April 6, 2015, Baha Mar and the government agreed that if the resort was not completed by December 31, 2010, Baha Mar would have to reconvey the property to the government.
Under the amended agreement under the previous Ingraham administration, the date for the completion of the project was December 31, 2014. The date by which the government had to give notice to Baha Mar ordering it to reconvey the land if it missed its completion deadline was amended to June 30, 2015.