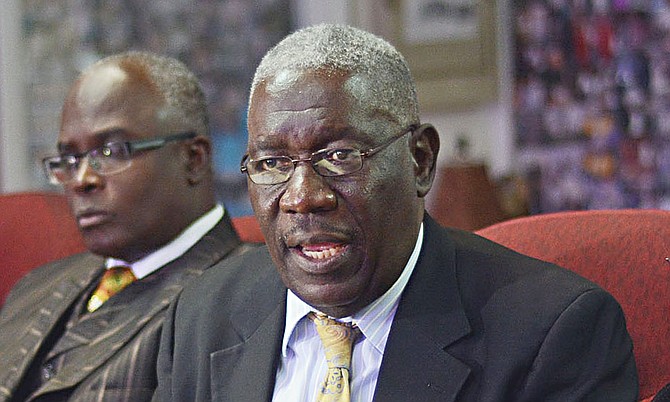 RELIGIOUS leader Bishop Simeon Hall has urged the country's leaders not to approve other developments on the scale of mega-resort Baha Mar and instead focus on a smaller hotel model.
His comments came during a special service for Baha Mar workers at New Covenant Baptist Church on Sunday evening. "I believe it's time for the leaders of churches in our Bahamas to broaden their views and concerns as it seeks to give light to all areas of our country," Bishop Hall said in his sermon. "I want to respectfully suggest to the relevant authorities who lead our country, consider that a structure as large as Baha Mar be the last of its kind built anywhere in Nassau, especially under similar conditions. Instead we should focus on attracting local and foreign investors to build guesthouses, cottages and the like, particularly on Family Islands so as to lend further development outside of New Providence and so that we are not so heavily dependent on the completion of a single structure."
Bishop Hall, pastor emeritus of New Covenant Baptist Church, told the congregation that he is "optimistic" about a positive resolution to the debacle.
He added that he has been "severely criticised" for standing with the workers of Baha Mar, but stressed that such a large scale project needs national support.
Last week, Bishop Hall told The Tribune he supported the government's decision to pay the salaries of more than 2,000 Baha Mar employees despite not yet honouring its promise to assist the thousands of people who lost millions of dollars when CLICO (Bahamas) collapsed.
Bishop Hall, a CLICO policy holder, said while he is "trying to walk down the middle road" with respect to both matters, he supports the government's intervention so long as it will "help progress" the resolution of the Baha Mar crisis.
Last month, Baha Mar and 14 affiliated companies involved with the property, filed for Chapter 11 bankruptcy in the United States.
The $3.5bn mega-resort subsequently advised more than 2,000 of its employees not to return to work until further notice, pledging to pay their salaries for a period, as it awaited the outcome on its bankruptcy claim.
Days later, the Supreme Court adjourned a hearing into a motion from Baha Mar asking this jurisdiction to approve a US bankruptcy court's order allowing it to tap into $80m in debtor-in-possession (DIP) financing as it awaits the outcome of its Chapter 11 filing.
Hours after that adjournment, the government said it would foot the estimated $7.5m a month bill to pay the resort's workers, in a bid to block them from being used as "pawns" in the resort's bankruptcy claim.
At another hearing last week, Baha Mar's legal team asked the Supreme Court for another adjournment so that all sides – including the government and The Export-Import Bank of China – could go back to the negotiating table.

Attorney General Allyson Maynard-Gibson led a delegation to China over the weekend, where discussions about Baha Mar are expected to begin today.
Baha Mar's next Supreme Court hearing is July 20, with a closed status hearing scheduled for July 14.