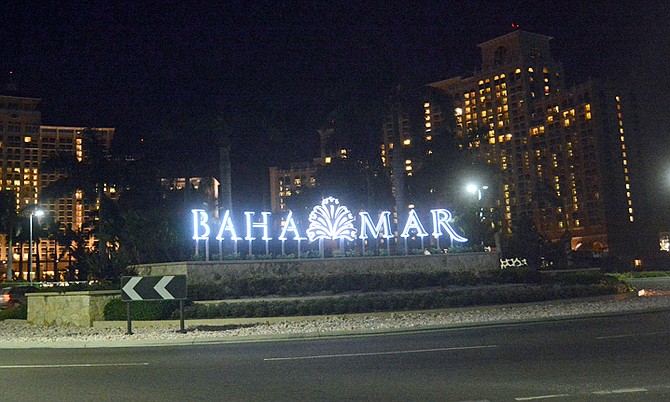 By KHRISNA VIRGIL
Tribune Staff Reporter
kvirgil@tribunemedia.net
BAHA MAR has accused China Construction America's (CCA) on-site staff of allegedly trying to remove important documents and computers from the compound which are essential to the resort's assessment of what remains of the construction process to allow for an opening date to be set.
According to a motion filed in Delaware's Bankruptcy Court last week and obtained by The Tribune, Baha Mar said these actions have raised reasonable concern – adding that it believes CCA may have been using false accounting practices to enlarge its costs and expenses.
Baha Mar said a preliminary review of accounting records kept in CCA's offices on site appear to consist of large amounts of reimbursement applications by CCA's and subcontractors' employees, "but the underlying records suggest these expenses appear to have been incurred for personal expenditures such as cosmetics and groceries," the court document said.
In several incidents, which happened over a week-long period between June 30, 2015 and July 8, 2015, Baha Mar's security team allegedly observed CCA employees trying to remove accounting documents and laptop computers by stuffing them in suitcases. Baha Mar added that throughout the premises there are signs that documents have been removed from various locations.
These incidents involved a female CCA employee who was caught by security trying to remove documents by placing them under her clothing, the court filing said.
Baha Mar said the most troubling and telling example of misbehaviour occurred less than 24 hours after the Chapter 11 cases commenced. The resort accused CCA employees of disconnecting the electricity supply at the compound.
"Sometime between 8am and 8.30am on Tuesday, June 30, the debtors (Baha Mar) became aware that power for the entire project had been suddenly shut down," the court document says. "Shortly thereafter the debtors received a call from CCA's Construction Director Mark Vice, who informed him that Tiger Wu (the) current executive vice-president of CCA and (China State Construction Engineering Corporation Ltd) appointee on Baha Mar Ltd's board of directors intended to fly from the Bahamas to New Jersey (or New York) that same day and needed to retrieve his passport from his Crystal Palace office. In response, the debtors informed Mr Vice that Baha Mar needed its power turned back on.
"Upon subsequently gaining access to the project's farm of back-up generators, the debtors and their consultants were told by CCA's own on site security staff that other CCA personnel had been in the building earlier that morning and were responsible for the power outage.
"Thereafter, the debtors were informed by CCA personnel that they had been instructed to cut the power until CCA could get into their offices.
"Given the ongoing safety threat presented by the potential for sustained power outages, and notwithstanding the debtors had already implemented procedures for the orderly retrieval of personal items, the debtors had no choice but to acquiesce to CCA's demands and allow certain of its personnel wider access to the Tower J offices to gain the return of certain items, including Mr Wu's passport.
"Sure enough, once the debtors had done so, the power was restored to the project at approximately 12 noon to 12.30 pm that same day."
Baha Mar said resort officials have reasons to believe that successful attempts to remove project documents from the premises have taken place. They said there is evidence that laptops, owned by the resort under its master contracts, have been removed.
"Although the offices at the project's premises designated for use by Tiger Wu and David Wang (another CCA executive) include docking stations and/or power cords for laptops in connection with their work on the project, the actual laptops, which undoubtedly contain critical project documents on the hard drives, which, in turn, Baha Mar owns under the Master Construction Contract, have been removed from the project facilities. In addition, throughout the project premises, there are signs that documents have been removed from various locations," Baha Mar said.
There are several other instances where officials believe there were attempts to steal documents from the compound, according to a declaration signed by Tiny Whiddon, Baha Mar's senior vice-president of intelligence and campus security.
On Wednesday, July 1, two CCA subcontractors were allegedly observed by Baha Mar security attempting to leave the Crystal Palace loading dock with a large black travel roller bag. Upon inspection, the bag contained a black Dell computer, a printer, and miscellaneous computer accessories.
The next day, four CCA subcontractors were allegedly attempting to leave Crystal Palace with four large suitcases. When the luggage was inspected, security personnel discovered binders and documents, which Baha Mar believes included receipts for expenditures and reimbursements for the project.
Several days later, another CCA subcontractor was seen trying to leave Crystal Palace with a suitcase, which was found to contain a laptop.
Baha Mar has been requesting the return of project documents, the motion said, such as the hard drives of the laptops that had been in the project offices of Mr Wu and Mr Wang, but those requests have been refused.
Additionally CCA has not complied with any requests for information about project documents on its own servers, Baha Mar said.
In the wake of these circumstances, Baha Mar said, even at this early stage of its Chapter 11 case the only hope of obtaining a complete and accurate set of project documents depends upon the expedient use of the comprehensive discovery powers afforded by applicable bankruptcy law.
CCA on Friday denied the allegations, saying in a statement that Baha is trying to deflect attention from its own mismanagement of the stalled resort.
On June 29, Baha Mar CEO Sarkis Izmirlian announced that the mega-resort in Cable Beach had voluntarily filed for Chapter 11 bankruptcy in the United States, in order to finish construction and open the property as soon as possible.
Baha Mar is seven months behind its December 2014 opening deadline.