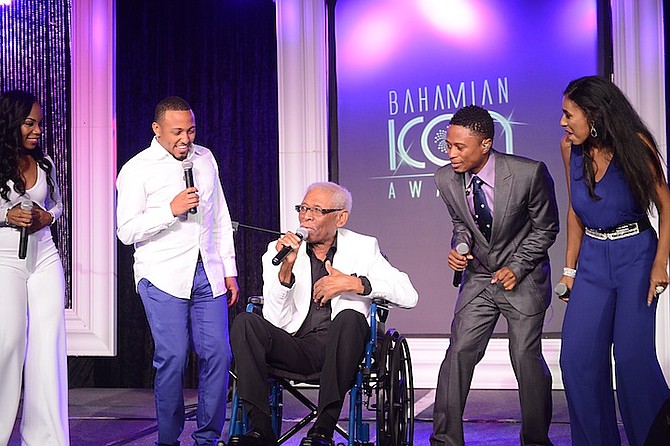 2015 Bahamian Icon Award Winners
• Lifetime Achievement - Ronnie Butler.
• Commerce - Gowon Bowe, PriceWaterHouse Coopers.
• Education - Janelle Cambridge Johnson, Anatol Rodgers.
• Entertainment - Timico Sawyer, Sawyer Boy TV.
• Entertainment Live - Philip Burrows, The Legend of Sammy Swain.
• Entertainment Recorded - Kareem Mortimer, Passage.
• Entrepreneurship - Steve Cancino.
• Health- Dr Conville Brown - The Bahamas Heart Centre.
• Fine Art - Willicey Tynes, Coral Reef Sculpture Garden.
• Humanitarianism - Dr David Allen, The Family.
• Music - Baha Men, Night and Day.
• Youth Development - Nikita Shiel-Rolle, Young Marine Explorers.
• Sports - Arianna Vanderpool Wallace.
• Tourism - Ava Burke Thompson.
By CARA BETHEL
cbrennen@tribunemedia.net
THIRTEEN outstanding men and women were honoured for their contributions to the country's development at the third annual Bahamian Icon Awards on Saturday in the ballroom of the Melia Nassau Beach resort.
Ronnie Butler received the evening's highest honour – the Lifetime Achievement award for a musical career that has spanned more than five decades.
A visibly moved Mr Butler noted that while he has received other accolades in the past, "this one really goes to the depth of me … It was given to me, but it really belongs to the Bahamian people because, without you, ain' nothing happening".
The legendary singer said that it is his dying wish that the bush-type rake 'n scrape music for which he is famous will continue for many years as a fixture in Bahamian culture. Mr Butler was serenaded by musicians Osano Neely, Angelique Sabrina, Fred Ferguson, Dyson Knight and Wendi Lewis – who sang a melody of his songs before the man himself took the microphone, to the delight of the audience.
The Bahamian Icon awards were founded in 2013 by Addis Huyler to acknowledge the exemplary achievements of men and women who excelled in various industries that contribute to the overall development of the Bahamian community. "The true message of the Bahamian Icon award speaks to the notion that we each have the purpose and the platform to be icons in our own lives, that is the ability to seek out the best in ourselves and for ourselves," Mr Huyler said.
This year, the public suggested more than 500 nominees to receive the honour. The Icon committee vetted the list to determine the official nominees in each of 13 categories – from commerce and health to sports and education – before an independent board determined the winner. The black tie evening, hosted by Icon nominees Patrice Johnson and Chigozie Ijeoma, featured entertainment by Shaback, Julian Believe, Sammi Starr and the St Anne's choir, Sosa Man and the cast of the Legend of Sammy Swain.