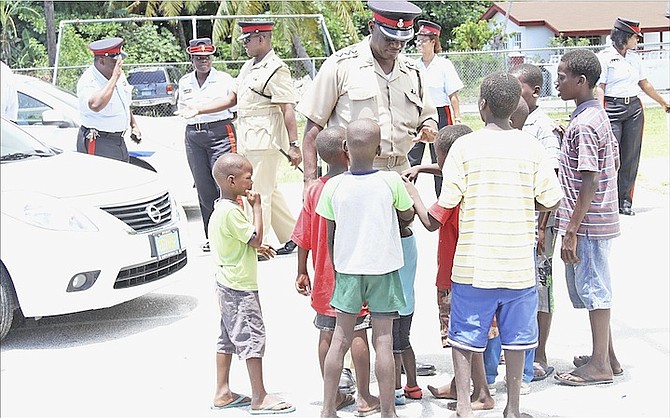 By RICARDO WELLS
Tribune Staff Reporter
rwells@tribunemedia.net
RESIDENTS of Nassau Village yesterday voiced their fears about the proliferation of crime in their area and worried that a promised increased police presence might not be enough to stop the problem.
The Tribune spoke to several residents during a police walkabout in the area.
Velma Elizabeth Adderley, a 75-year-old mother of nine, said that the efforts displayed by officers are commendable but would do very little to cut the scourge of crime.
Mrs Adderley said her close relationship with officers of the Royal Bahamas Police Force and the respect of youngsters in her community has allowed her an opportunity she said many of her neighbours don't have – the chance to live without fear.
The police initiative came after 26-year-old Christopher Miller was shot dead around 4pm on Friday in Nassau Village as he was about to get into his vehicle after leaving a restaurant on Alexander Boulevard.
Responding to questions about Friday's homicide, Mrs Adderley said: "You can't blame the politicians, you can't blame the police. You have to blame the mothers and the fathers."
She said failures in the Bahamian family structure resulted in overarching issues that the government alone cannot address.
"If the mothers took more time with their daughters, there would be no problems. If the fathers stop going to the bar and spending all of their money and took care of their families there would be no problem. Don't blame (the police), blame yourself."
Joseph Dickerson, a 30-year-old resident of the area, said that despite being a member of the community since 1994, he no longer feels safe.
According to Mr Dickerson, the lack of protection and the tight-knit nature of the criminal element within the community now has him questioning the safety of his family on a day-to-day basis.
"This community is built of families," the father-of-three said. "When I say families; I could break in my neighbour's house today and my cousin could be over their living and they see that, I can get away with that. We need firm things in this community that can help the police try to make this community a better place."
Friday's murder along with two other homicides on Sunday pushed the country's 2015 murder count to 80.
This year's murder count already outpaces last year's tally at this time.
Up to July 7, 2014 there were 65 murders recorded.
On Sunday, police promised to increase the number of officers on the streets to double down on crime.
Assistant Commissioner of Police Stephen Dean, who led the walkabout in the Nassau Village area, said it is a community that presents a lot of challenges for police.
"We are responding to the residents' call that they want to see more increased police visibility, they want to see more police presence, they want to see the police tackling the hard issues that they have been complaining about," said ACP Dean.
"I can tell you over the past few weeks into today's date, we have been mounting a number of operations in these areas and a number of areas in New Providence. We have made some successful arrests in these areas. Despite all of that, we will still have one or two incidents; but the key thing is that we are targeting some prolific offenders who tend to hideout in areas such as these, who believe that they can go under the radar.
"But we can tell you that we are seeking them all out and what we are doing today, we are talking to residents. We have to reassure residents in these communities that they must be able to feel safe in this community. They should be able to move freely about in their community. They should not be under siege by a few young men who are hell-bent on committing crime."
Police have conducted similar exercises in Yellow Elder and Montell Heights.
On Sunday, police said they wanted to speak with 19-year-old Brandon Antonio Sterlin Cooper of Plantol Street, who they believe can help with their investigation into Friday's murder.