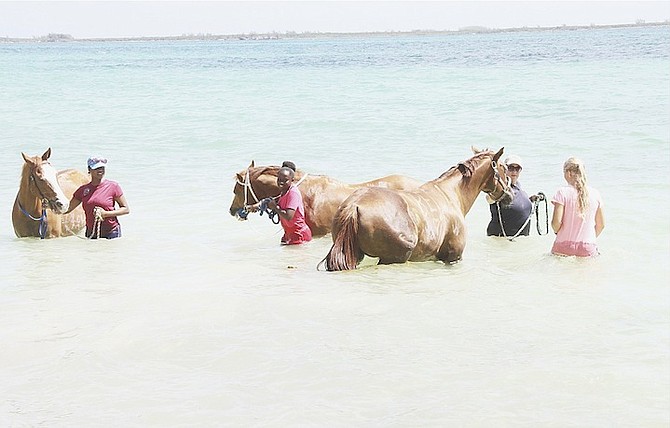 By ETHAN KNOWLES
Q: Why are most horses in shape?
A: Because they're on a stable diet.
But enough horsing around - it's summer, temperatures have risen, children are off school and camps are in full session.
One such summer programme is Camperdown's horseback riding camp, which has been split into three week-long sessions over June and July.
Last week, Camperdown Riding Club, at Wild Tamarind Drive in eastern New Providence, held its second camp with 24 participants, ranging in age from six to 15. Campers enjoyed daily riding lessons with assigned horses they groomed and grew to love during the five-hour sessions (8.30am-1.30pm).
Though special attention is given to beginners, all skill levels are encouraged to attend. The non-profit riding organisation is advertising agreeable activities such as crafts and a fresh take on "Duck, Duck, Goose" with water. Quality riding instruction and team-oriented games alongside snacks and lunch are also included with the cost.
On Wednesdays, campers accompany their horses to the beach for a refreshing swim (humans and equines) and on Fridays they enjoy a "Pizza Fun Day" to conclude the week. Every day horses rotate between campers so by the session's end, each camper has handled every horse and learned the basics of caring for and maintaining the animals.
The last session runs from July 27 to 31 and costs $225.