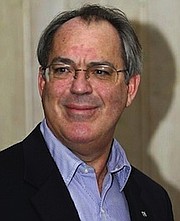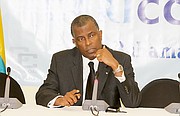 By AVA TURNQUEST
Tribune Chief Reporter
aturnquest@tribunemedia.net
FORMER Minister of Foreign Affairs and Immigration Brent Symonette yesterday said recent statements made by Fred Mitchell about Baha Mar CEO Sarkis Izmirlian sent the wrong message to foreign investors.
He added that Mr Mitchell's conduct was not fitting behaviour for a Cabinet minister.
As he criticised recent remarks made by Mr Mitchell, the current minister of foreign affairs and immigration, Mr Symonette called for a cooling off period to allow for the successful resolution of the Baha Mar dispute.
Mr Symonette said he hoped that the talks in China led by Attorney General Allyson Maynard-Gibson were successful despite all the accusations thrown around at home – behaviour he described as counterproductive and discouraging to future investors.
He was referring to Mr Mitchell's suggestion that Mr Izmirlian would face revocation of his immigration status had his scathing statement released last week about the government been made under the tenure of previous immigration ministers, such as Arthur Hanna or Loftus Roker.
"I don't think that is the behaviour of a Cabinet minister and minister of foreign affairs," Mr Symonette told The Tribune yesterday.
"The things is to let level heads prevail, to resolve this and get Baha Mar on the road. I don't think that's helping the situation at all, questioning whether the man (Mr Izmirlian) is sane. We need level heads making sure this is resolved as quickly as possible."
During an Independence Day speech in Exuma, Mr Mitchell hit out at the developer – who has permanent residence in The Bahamas.
"You can't come to The Bahamas and talk to our leaders anyway you like. You (got to) be crazy," Mr Mitchell said on Friday.
He pointed to the stance taken by the late Sir Lynden Pindling towards accusations of political malfeasance levelled by American media, insisting that this set the stage for the country's no-tolerance approach to disrespect.
"In that independence generation, if Carl Francis or Arthur Hanna or Loftus Roker who served as ministers of immigration were faced with the developer in The Bahamas of that day, he would not have lasted the next day within the borders of The Bahamas."
"These are of course different times, kindler gentler days," Mr Mitchell added.
When asked about this yesterday, Mr Symonette said: "Thank goodness we have progressed from those days. Thank God we no longer live under the days when a government can threaten residents with revocation of their status. This does not send a good message to other investors, and we need to be very careful that we're not threatening people with revocation.
"It sends a bad message to potential investors."
He added: "I hope the attorney general is successful in China, this is a complex issue and there have been a lot of accusations thrown around, and it's going to take level heads to resolve this."
When contacted by The Tribune yesterday, Mr Mitchell dismissed the criticism as political conjecture and pointed out that his speech was delivered ahead of the government's two-day meetings in Beijing which began on Monday.
He added: "If they have a problem with that then cool breeze."
Last week, Baha Mar released a critical statement about the government, accusing the Christie administration of "concocting a sideshow for its own purposes". The statement came after the Ministry of Finance blamed the resort for being slow to provide pertinent information, which led to the government's delay in paying Baha Mar employees last week. Baha Mar shot back at the assertion and called the delay in workers' salaries "unconscionable and disappointing".
Hours later, Prime Minister Perry Christie said he had "grave concern" for the state of Mr Izmirlian's mind due to the nature of the resort's press release.
The war of words is part of an ongoing saga that unfolded after developers of the $3.5bn mega resort filed for Chapter 11 bankruptcy in the US on June 29, a move that reportedly blindsided the government.
Earlier this month at a church service in Florida, Mr Mitchell suggested that the developer's bankruptcy filing was an attempt "to effect an act of unfairness on the Bahamian people while trying to fool us that they were looking out for our best interests".