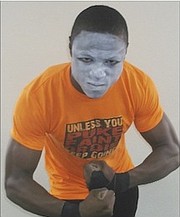 By BRENT STUBBS
Senior Sports Reporter
bstubbs@tribunemedia.net
EVER since he was a young boy growing up, Tomeko Whylly envisioned himself being a professional wrestler.
After getting his feet wet with the Champion Amateur Boxing Club, whose coach Ray Minus Jr organised a few exhibition matches, Whylly will finally get to make his debut as he competes on the inaugural Gladiator Championship Wrestling Show August 29 at Arawak Cay when he parades under the stage name Anansi, The Trickster.
Growing up in Nassau as one of eight children cared for only by their mother, he quickly learned at a very early age that in order to survive, he had to start helping to provide for the family. Life was hard and he had very few possessions, and certainly nothing like the children from the better off areas that he would see regularly.
His eyes were opened up at the age of 10 when he discovered the world of professional wrestling and started watching the Superstars as often and however he could. This set in him a dream to become a professional wrestler, but as there were no young training centres where he lived he had to start his own training regime.
Who is Anansi?
"The modern incarnation of Anansi, a Bahamian mystical legend, to some people I am a trickster and others I am a hero," said Anansi of his stage name that he prefers to be mentioned. "I grew up here in Nassau as one of eight children, cared for by my mother.
"I learned at an early age how tough the road is, trying to provide for my family. At the age of 10, I discovered the world of professional wrestling and I started to train myself and I picked up any source of information that could help me as I wait on that day to come when I would finally get to compete on stage."
While none of his siblings are involved in any sports, Anansi said he's delighted to be the trailblazer and he hopes to make the most of his experience.
"Like every youngster growing up, me and my brothers and sisters always wanted to do stunts, take out our beds and jump up and down," he said. "It was a passion and I took it further than other people. I always had in my mind that I will become a professional wrestler.
"People used to look at me in different ways and they used to say that this guy is really different. So I took it and I ran with it. Any opportunity that I was given, I took advantage of it."
Using a number of superstars like John Cena, Stone Cold and The Rock as his idols, Anansi said he was able to mesh some of their performances into what he has called his own package to get ready for his style of wrestling when he steps into the ring on August 30.
"I also like the Underdog because he's short like me," Anansi said.
When he got introduced to Nick Cara, the CEO of GCW, when he came to the Bahamas to start a fact-finding trip to bring the Gladiators here, Anansi said he only weighed about 140 pounds. Today, he's beefed up to about 151, but his desired weight in the ring on fight night is about 170.
"I've been eating a whole lot every day," said Anansi about his increase in size. "I want to be strong, large and in charge. I might be small like Sir Lynden Pindling, but I'm a man with a lot going on in my head. I want the Bahamian people to remember the name Anansi because I'm here to stay."
On fight night, Anansi said the public will be sure to know who he is because he will be wearing his Bahamian attire and he might just have his face painted with the Bahamian flag. However he's dressed, Anansi said he is confident that he will make an impression against an unknown opponent.