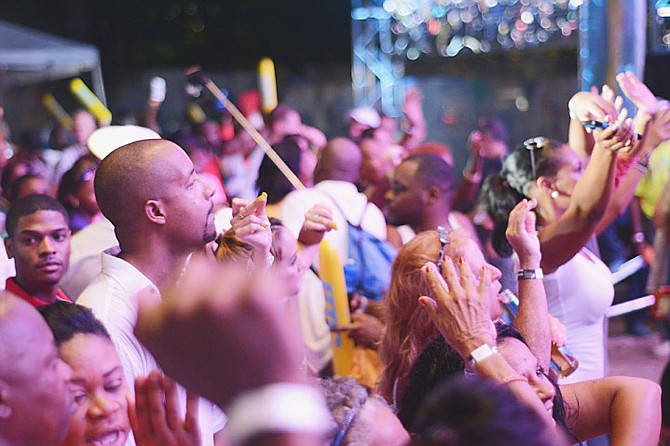 By RASHAD ROLLE
Tribune Staff Reporter
rrolle@tribunemedia.net
TOURISM Minister Obie Wilchcombe yesterday confirmed that Junkanoo Carnival went over its $9m budget - costing about $12m - but said he expects the allocation for the festival to be reduced considerably next year.
Mr Wilchcombe said the government got a return on its investment despite exceeding its budget for the festivities.
He said he believes the event injected more than $50m into the economy, a figure that National Festival Commission Chairman Paul Major once estimated the festival would bring.
The tourism minister said not factoring spending required for the festival's launch in Grand Bahama was one reason why the event cost taxpayers more than what was originally budgeted. He did not say how much was spent, however it has been reported that the event cost $12 million in the end.
"(Carnival) was over budget, but with explanation," Mr Wilchcombe told The Tribune. "Obviously some things that were not considered in the initial plans were later considered and it went over-budget, but not without explanation. The point is the value of the project has to be looked at in its full context and (commission members) will explain how all the funds were spent and why they had to be spent. I think it's important to point out that many things were included that were not included in the first instance. For instance what we did for Grand Bahama, so the budget had to be changed, so they went over budget.
"So how do we value the entire project? Did we get money for spend? What's the return on the investment? All those things have to be looked at. But what I do like is that the budget is going to be looked at again for next year and it's going to be considerably less based on all the imprint that they now have."
In May, Mr Major predicted that the GDP impact of Junkanoo Carnival could be about $50m.
Asked about this yesterday now that the report into carnival has been completed, Mr Wilchcombe said: "I think if you look at the dollar value it might be even more than that, but it's going to be value as opposed to dollars and cents."
Mr Wilchcombe confirmed that the long-awaited report into carnival's impact has been prepared and presented to Cabinet.
"The Cabinet has taken sight of it," he said. "The commission will now meet with the media soon and discuss all the intricate details of everything, inclusive of spending and everything else."
Asked for specifics about the total revenue generated from the festival, he said: "I don't have the dollar and cents impact of carnival. They will have to give you that. That's all an economic view. I can't say that. More importantly for me is the Bahamian participation. There's a value to that. There is a goodwill value to that. There are, of course, visitors that came to the country. There are vendors. In fact you'll find that they hired more than 500 vendors who were given opportunities here and in Grand Bahama and many small businesses. You'll find the hundreds of musicians that were utilized, so there's a lot of value there. But now how do you put that all together? That's for the economists to do. What I am doing is looking at the long-term. We see the potential, we see the participation and we know what the brand carnival has to the world community so mix that with Junkanoo Carnival then we've got a winner that no one else can match."
In terms of return on investment, the tourism minister said the event received exposure from international journalists and the country has been invited overseas to showcase its carnival.
"Now there's an interest from visitors seeking to find out booking patterns and what they need to do and what should happen so, yes, it's there but I believe that we are going to see the true value for this in the third year because it's like a business," he said, adding that the BNFC is ready to give a full briefing on the event.
The inaugural event was staged over three days in New Providence.