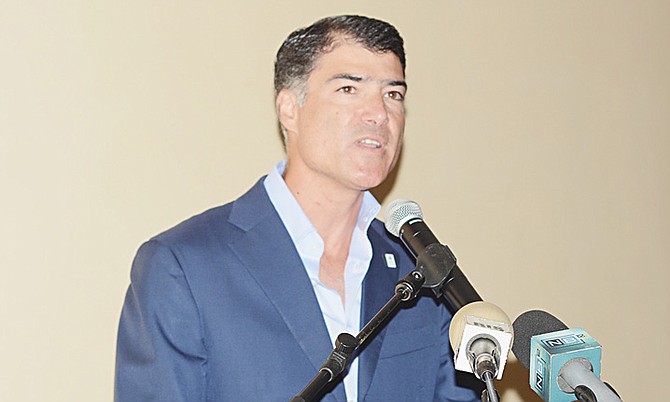 By KHRISNA VIRGIL
Tribune Staff Reporter
kvirgil@tribunemedia.net
BAHA Mar CEO Sarkis Izmirlian has blatantly disrespected this country because he has no regard for Prime Minister Perry Christie whom he views as a "weak" leader, former Immigration Minister Loftus Roker said yesterday.
According to Mr Roker, had Mr Izmirlian acted in contempt of this country and its leadership when he served as minister in the Pindling administration, the resort developer would have been kicked out of the country and banned from returning.
Mr Roker also said that the harsh words Mr Izmirlian has had for the government may be an indication of further "conflict" behind the scenes.
"I take the view that as a Bahamian in The Bahamas, any and all foreigners must respect me," Mr Roker said when contacted by The Tribune. "I think he (Mr Izmirlian) sees Mr Christie as weak and I bet he knows the prime minister better than you or I. So I think with reason, he has made the statements he has made and acted the way he has because he sees Christie as weak."
He added: "To have acted the way he has and to do it publicly he would have been made to leave right away. No question about that. But it's a different story when people think they can say what they want to you and treat you how they want to treat you.
"One of these days when we stop looking at everything politically, we will find that Baha Mar is more complicated than we think. There is a lot of conflict between the leadership and that might be why Mr Izmirlian has said and done certain things."
Last week, Foreign Affairs and Immigration Minister Fred Mitchell said Mr Izmirlian would have been thrown out of the country had he made scathing remarks about the government under previous leaders such as Mr Roker.
"He would not have lasted a day within the borders of the Bahamas," Mr Mitchell said, adding that these are different times and kinder gentler days.
Baha Mar filed for Chapter 11 bankruptcy in a US court on June 29. It is a move that Mr Christie has said came without notice to the government.
Since then, Baha Mar criticised the Christie administration when it delayed paying resort workers whose salaries Mr Izmirlian had attempted to protect under the Chapter 11 filing.
Baha Mar accused the government of "concocting a sideshow for its own purposes."
Baha Mar also questioned why the Christie administration is not supporting Mr Izmirlian, who, it said, has been "victimised" by the resort's general contractor, China Construction America. Baha Mar also said the government's actions have "sown doubt" about the project's future.
This led Mr Christie to fire back with questions of Mr Izmirlian's mental health. In a statement, Mr Christie said cool heads and rationality ought to prevail. However, he said, he had "grave concerns for the state of Mr Izmirlian's mind".
However, there were signs of a strained relationship between the government and Mr Izmirlian earlier this year.
During a Chamber of Commerce summit at the Melia resort, Mr Izmirlian criticised successive governments for "unfulfilled promises" and suggested the Christie administration seek "outside help" on crime prevention and education for the country to succeed.
Meanwhile, new talks between the government, Baha Mar, the Export-Import Bank of China and China State Construction were expected to wrap up yesterday in Beijing.
The government hopes stakeholders can settle the crisis out of court and have the resort opened later this year.