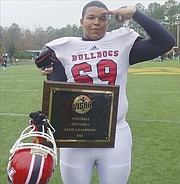 By RENALDO DORSETT
Sports Reporter
rdorsett@tribunemedia.net
BAHAMIAN football prospect Rondre Tener-Knowles is expected to join an emerging NCAA programme in the American Athletic Conference.
Tener-Knowles, a 6'1" 290-pound defensive tackle from Grand Bahama, verbally committed to the East Carolina Pirates for the fall 2016 season.
Locally, he was a student at Tabernacle Baptist Academy and St George's before relocating to Liberty Christian Academy in Lynchburg, Virginia.
Over the past two seasons for the Bulldogs, Tener-Knowles has drawn interest from a number of elite division I programmes, including Wake Forest and James Madison.
As a sophomore, he finished with 29 tackles and one tackle for loss as the Bulldogs finished 9-2 and claimed the Virginia Independent Schools Athletic Association Division I state title.
Liberty Christian Academy coach Frank Rocco outlined his junior defensive lineman's growth over the course of the past few seasons.
"One of the most exciting things about Rondre and his upside is that he's learning every day. Every day he's learning something new about the game that some kid who's been doing it 10 years would already know. Those kids have plateaued and levelled out. Rondre gets better and better every day," he said in an interview with Sammy Batten of www.bonesville.net.
"Here's a 290-pound kid who runs a 4.85 or 4.9 40-yard dash. We have video clips of him just chasing down legitimate running backs on the perimeter as they try to get to the sideline. He does that frequently from a nose tackle position. I can tell you this. He's got some rare ability. I've been coaching 30 years in high school and college, and he's in the top five-per cent of the guys I've coached and coached against. I'm talking innate physical tools. He's extremely explosive and has great weight room strength. You take all those attributes and smooth off the some of the rough edges, and he's got a chance to be a really great one.''
Pirates' defensive line coach Marc Yellock saw tape on Tener-Knowles, followed up with a visit to the Bulldogs spring workouts and eventually extended an invitation to the ECU summer football camp.
Knowles is the son of Rondre Tener-Knowles Sr and Charmaine McPhee.
He is also the cousin of Virginia Tech Hokies senior wide receiver Demitri Knowles, who also left Grand Bahama and attended Liberty Christian Academy in his formative high school years.
"Demitri played here five or six years ago and had a good career. The two are very similar. Dimitri hadn't played a lot of football, but really wanted to learn. He ended up getting a scholarship to Virginia Tech," Rocco said.
"The whole family felt like that worked out well for Dimitri, so they got Rondre up here. His sophomore year he was very new to football. He really hadn't played much organised football before coming to the states. But he picked it up quickly and got himself into football shape.''
After completing its first season in the American Athletic Conference with an 8-5 overall record in 2014 and making its eighth bowl appearance in the last nine years, East Carolina is rising to national prominence in the relatively new AAC.