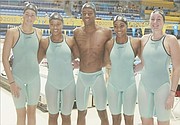 By BRENT STUBBS
Senior Sports Reporter
bstubbs@tribunemedia.net
AFTER finishing sixth overall in the preliminaries of the women's 100 metre butterfly yesterday morning, Arianna Vanderpool-Wallace opted not to compete in her second straight final. Instead, she wanted to focus her attention on her specialty in the 50m freestyle today.
As the first and only Bahamian so far to win a medal at the 17th Pan American Games in Toronto, Canada, 25-year-old Vanderpool-Wallace stepped back in the pool at the CIBC Pan Am/Parapan Am Aquatics Centre and Field House after a day's rest from her bronze medal performance o
n Tuesday to contest the 100 fly.
The Bahamas' most decorated swimmer placed third in her heat in 59.33 seconds that saw Canadian Katerine Savard win in 58.34 and Daynara De Paula of Brazil take second in 58.70. With the performance, Vanderpool-Wallace placed sixth overall going into the final held last night. But she opted not to compete.
"My 100 butterfly was good, I just like to swim it because it helps with my freestyle events," Vanderpool-Wallace told The Tribune. "After qualifying 6th for finals I have decided to scratch the event so that I can focus on my 50 freestyle which I will be competing in tomorrow."
Vanderpool-Wallace won the bronze medal in the 100m free on Tuesday in 54.15 behind Canadian Van Landeghem in a new games record of 53.83 for the gold and previous games record holder Natasha Coughlin of the United States, who took the silver in 53.85.
"The race was good, I can say that I gave it my all, it wasn't a great time but it gives me something to push towards going into Rio," said Vanderpool-Wallace of the 2016 Olympic Games in Brazil. "I've been faster this year so to not swim that fast now was unexpected but a learning experience."
Vanderpool-Wallace, adding her Pan Am medal to her growing list of achievements, will focus on the 50m free.
"I'm excited for the 50 free," Vanderpool-Wallace said as she looks forward to complete her participation in the games today. "It's my favourite event to swim and my speed feels great so hopefully I will have a good swim."
She will be joined by the rest of the five-member team who will all be in action today. Like they did in the 100m free, Vanderpool-Wallace will compete with Ariel Weech in the 50m free. Weech, 23, was 15th overall in the 100m.
Dustin Tynes, coming off his national record-breaking performance in the men's 200m breaststroke, will compete in the 100m breaststroke with Laura Morley in the women's race.
Joanna Evans, the only other member of the team, coached by Andy Loveitt and managed by Kathryn Dillette, will be making her debut when she contests the women's 400m free. Grand Bahamian native Evans will wrap up the swimming competition today when she competes in the 800m free.
"The games are great, the team that Bahamas swimming brought is a strong team and I believe that every athlete including boxing, gymnastics, tennis and track already has or will represent the country well," said Vanderpool-Wallace, as she took some of the spotlight off her.
Dillette, however, said they are pleased with the impression all of the swimmers have made so far.
"Everybody is in great spirits, they are supporting each other and everything is going very well," said Dillette. "They are all looking forward to competing tomorrow morning and getting back into the final tomorrow night and if everything goes as planned, we should have a very good chance of getting back on the podium with Arianna in the 50m free.
"Dustin Tynes looks very good, breaking Jeremy Knowles' 15-year-old national record in the 200m breaststroke. Joanna Evans hasn't done any swimming yet, but she's ready to go. Ariel will be getting in her second swim as well as Laura, so they are all looking very good."
Following the games, Dillette noted that all of the swimmers, with the exception of Morley, will be back in training before they head off to compete in the 16th FINA World Championships in Kazan, Russia, July 24 to August 9. While Morley won't be going after she didn't make the cut, the quartet will be joined by Vereance Burrows, who did, but didn't make the Pan Am team.
The team to the World Championships will be managed by John Bradley with Grand Bahamian Bert Bell as the head coach.