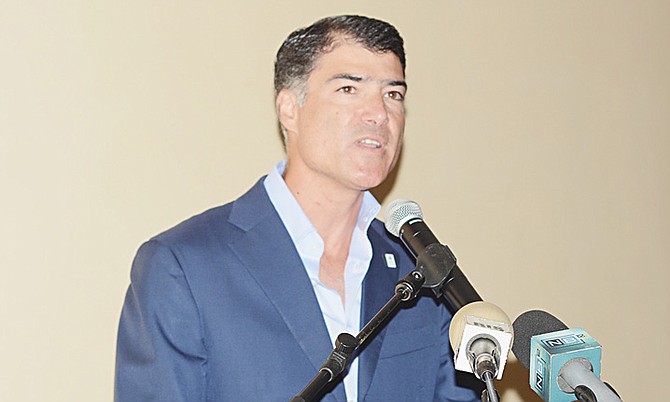 By TANEKA THOMPSON
Tribune News Editor
tmthompson@tribunemedia.net
BAHA Mar CEO Sarkis Izmirlian pleaded with all parties involved in the ongoing dispute surrounding the resort to continue negotiations for a compromise without "hidden agendas".
In an apparent reference to the government and Baha Mar's Chinese partners, Mr Izmirlian said it would be impossible for all involved to reach an agreement if some parties were "planning other actions" in the background.
Mr Izmirlian said he has written to Prime Minister Perry Christie, who he respects, asking the nation's leader to put an end to the "legal wrangling" so that all parties can come to an agreement to get the resort finished and open as soon as possible.
In his most recent letter to Baha Mar employees on Saturday, Mr Izmirlian also said the resort is continuing talks with its lender and general contractor to reach an agreement and will do so as long as all sides are willing to sit at the negotiating table.
In his letter, the embattled developer also hinted at the emotional turmoil the past "frustrating" week has put him through and acknowledged that the media frenzy surrounding the stalled project must be "agonising" for the resort's staff.
This came days after Mr Christie announced the government has filed a winding up petition against Baha Mar in the Supreme Court to take the fate of the project out of the developer's hands and under the control of provisional liquidators supervised by the Bahamian court.
" . . .We ask that all the other parties concerned come to the table with a real spirit of compromise, and no hidden agendas," the developer wrote. "I believe that if that is the case then a solution can and will be found. If parties are communicating in the background and planning other actions, it is impossible for all parties to find a consensual solution."
He also said: "We are continuing to engage with both our lender and our general contractor to find a solution. We will continue to do so as long as long as all parties are willing to come to the table.
"We will not get up from the table until we find a solution."
And even though court documents filed in support of Baha Mar's bankruptcy filing on July 10 said the resort would be forced to scale staff down to a "skeleton operation" of about 50 workers if an agreement with its lender cannot be reached by today, Mr Izmirlian stressed in his letter that all of the resort's legal actions "are only meant to protect you, Baha Mar, and the investment of time and money that my family and I have put into Baha Mar."
He added: ". . .I am so thankful for all your emails and calls this past week. While admittedly this has been a frustrating week for me, I cannot imagine what you are going through. As I sat down to write to you today, I reminded myself of our core values, the most important is to care deeply. This value goes into everything we do at Baha Mar, and is what I am most proud of as I look back over the past 13 years.
" . . .I care deeply about the uncertainty this has created for all of you. I care deeply about not yet being to provide all of you the opportunities and careers you deserve.
"In the next days we will continue to take all necessary legal actions to protect all our interests. However, I have also written today (Saturday) to the prime minister, for whom I have the utmost respect, asking for a cessation of the legal wrangling in order to give all parties the necessary time to stay at the table, and continue to negotiate in earnest to achieve a compromise that enables Baha Mar to be completed properly and opened successfully as quickly as possible."
On Thursday night, during a national address, Mr Christie said the compulsory winding up procedure would allow "a neutral party" to take over the process and get the resort on a workable path to completion and opening.
Last Monday, Baha Mar began new talks with its lender, the Export-Import Bank of China and China State Construction Engineering Corporation, the parent company of its general contractor, to hopefully come to an out of court agreement.
While the government has said those talks fell through without an agreement, Baha Mar has insisted discussions were continuing. Mr Christie said during those talks, Baha Mar said it needed increased funding and refused to immediately drop its bankruptcy filing and lawsuit against its contractor.

Baha Mar filed for Chapter 11 bankruptcy in a US court on June 29.