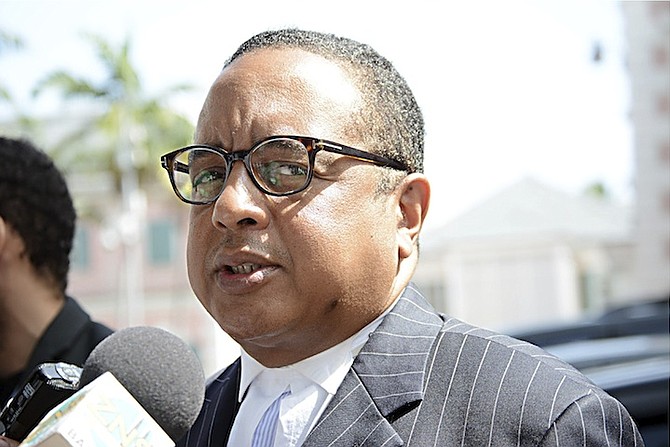 By AVA TURNQUEST
Tribune Chief Reporter
aturnquest@tribunemedia.net
STATE Minister for Legal Affairs Damien Gomez has dismissed Baha Mar's recent accusations against Prime Minister Perry Christie, stating that the "door was closing" on developer Sarkis Izmirlian's opportunity to strike a deal that would allow him to stay on at the helm of the $3.5bn mega resort.
"We're moving forward to secure a liquidator," he told The Tribune in a recent interview, "once that's done, it's in his interest to strike a deal as soon as possible otherwise creditors will take over and the restructuring will not be to his liking."
In a press statement on Friday, Baha Mar accused Prime Minister Perry Christie of misleading the country over the details of ongoing discussions in China and further jeopardising the future of the resort.
The resort called Mr Christie's announcement on Thursday night that it would seek to liquidate the stalled project an unnecessary and reactionary distraction that would put both its staff and assets at risk.
On Friday, the resort insisted that it was still engaged in good faith negotiations with China State Construction Engineering Corporation, the parent company of its general contractor, China State Construction America (CCA), and lender, the Export-Import Bank of China.
However, Mr Gomez claimed that any statement made by the resort could not be trusted at this time, adding that the accusations were not surprising given the previous attacks on Mr Christie made by Mr Izmirlian.
He insisted that the government's team did not leave Beijing prematurely and contested the resort's version of negotiations that contradicted Mr Christie's national address on Thursday.
"That's what they've (Baha Mar) been doing all along," he said. "It may be that they thought we were so stupid that we wouldn't do anything, but the reality is that Mr Izmirlian did not attend the actual negotiations. He didn't even send his number two man until the middle of it."
Yesterday he said he was preparing his arguments for today's Supreme Court hearing, where the government will oppose Baha Mar's application to have its US bankruptcy filing approved here.
When told that Baha Mar has insisted that talks in China with its partners are ongoing, Mr Gomez said he did not know anything about that.
He added yesterday: "If they are able to reach a settlement (today), to God be the glory. I would imagine if they reach a settlement that would be evident by their (Baha Mar) withdrawing the actions in Delaware and London and reaching an accord with the bank and the contractor, which would enable us to go forward without any litigation at all. I wish him (Mr Izmirlian) luck if that's what he's really trying to do."
The government has said that the talks in China fell through last week because Baha Mar required increased funding – which one source said was $600 million – and did not agree to immediately drop its bankruptcy filing and lawsuit against its contractor.
Mr Christie has said the compulsory liquidation is similar to Chapter 11, but would place the project under the control of local liquidators.
"The government fails to explain how availing itself of the Winding Up Act of Bahamian law provides more or better relief than the Chapter 11 process," Baha Mar's statement on Friday read.
"The statute does not have the robust protections afforded to all creditors under Chapter 11. In effect the government of the Bahamas' legal manoeuvres are an attempted nationalisation of a private investor's assets."
"Further, Bahamas law itself provides for recognition of proceedings such as Chapter 11 to give legal effect on Bahamas soil. Such mutual recognition of cross border insolvencies is a common international legal standard existing among many countries."
In response, Mr Christie called Baha Mar's assertion that the liquidation petition amounts to government seizure of private assets as "absolute nonsense."
The resort has claimed that discussions did not end when the government's team left the table last week, and that it believed that stakeholders had developed an understanding of the project's needs and are willing to provide the required financing.
"Baha Mar has not refused to dismiss the Chapter 11," its statement on Friday said. "We have agreed to dismiss the case as soon as parties have a mutually-beneficial binding agreement to the benefit of all parties, an interest the government should share, rather than taking actions that risk irreparably damaging the discussions.
Baha Mar added that the project remained on budget despite the four-month delay past March 27, the opening date that China State Construction reportedly promised the developer and Mr Christie.
And the resort said that the project continued to survive due to the millions invested by the Izmirlian family, whose investment in the project totalled more than $900 million.
Baha Mar was initially expected to open last December.

Meanwhile, Mr Gomez said today's legal arguments on Baha Mar's bankruptcy filing are expected to be lengthy and he did not know if the court would have time to address the government's winding up petition.
"The recognition application is quite long and you've got four, five sets of lawyers making submissions, that's going to take us into late in the afternoon. We (will) go as far as we can, I don't know practically if we will finish or not," he said.