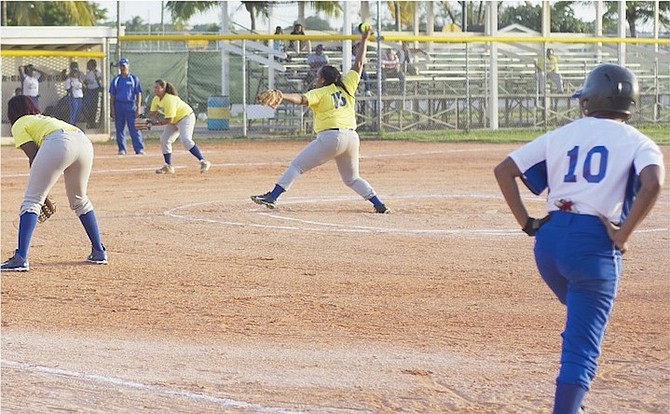 THE Bommer G Lady Operators broke up a 9-9 tie by scoring seven runs in the bottom of the sixth inning to hand the Johnson Lady Truckers a 16-9 loss in the ladies' opening game of the New Providence Softball Association in the Banker's Field at the Baillou Hills Sporting Complex Saturday night.
In the men's feature contest, the Sports Centre Dorsey Park Boys stunned the Commando Security Truckers 14-13.
NPSA action is scheduled to continue with the following games this week:
Tuesday
7pm - Bommer G Operators vs Lady Stingers (L)
8:30pm - Sports Center Dorsey Park Boys vs JMEL Panthers (L)
Thursday
7pm - Sunshine Auto Wildcats vs Black Scorpions (L)
8:40pm - Chances Mighty Mitts vs Sports Centre Dorsey Park Boys (M)
Saturday
7pm - Johnson Lady Truckers vs College of the Bahamas Lady Caribs (L)
8:30pm - Iradez Hitmen vs JMEL Panthers (M)
Notes: The NPSA executives, players and fans are extending their condolences to president Godfrey 'Gully' Burnside, whose mother Florence Gray passed away Saturday night. The Tribune Sports Department joins in expressing our sympathy to Burnside and his family. May her soul rest in peace.
The NPSA has also announced that its annual Summer Softball Camp is currently underway at the park. The camp is slated to run for six weeks by instructors who were recently certified when Softball Canada was in town to conduct a coaching clinic.
There will be positioning skills, offensive and defensive drills and a short teaching session each week. The camp ends on August 22.
Photos by Aaron Davis