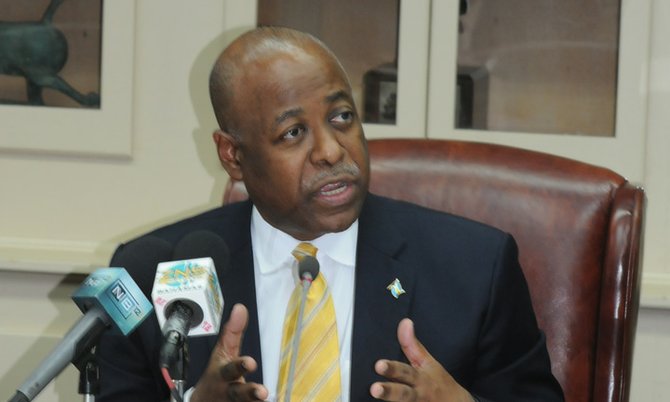 By RASHAD ROLLE
Tribune Staff Reporter
rrolle@tribunemedia.net
THE release of the economic impact report into May's Junkanoo Carnival events has been delayed again – this time to an unspecified date next week.
Tourism Minister Obie Wilchcombe, Youth, Sports and Culture Minister Daniel Johnson and National Festival Commission Chairman Paul Major all told The Tribune last week that a press conference would be held this week marking the release of the long anticipated report.
However, Mr Major told The Tribune yesterday that the press conference and release of the report has been postponed to next week.
When The Tribune asked for a copy of the report, he said the commission does not have one at this time.
Mr Major originally said the group would release the revenue and economic impact report on carnival 21 days after the festival ended.
However, 52 days have now passed since that 21-day deadline ended.
Nonetheless, Mr Wilchcombe confirmed to The Tribune last week that Junkanoo Carnival went over its $9m budget, costing about $12m.
At the time, he said the government is still going to get a return on its investment, however.
He added that he believes the event injected more than $50m into the economy, a figure that Mr Major once estimated the festival would bring.
"I think if you look at the dollar value it might be even more than ($50m), but it's going to be value as opposed to dollars and cents," he said.
"(Carnival) was over budget, but with explanation. Obviously some things that were not considered in the initial plans were later considered and it went over-budget, but not without explanation. The point is the value of the project has to be looked at in its full context and (commission members) will explain how all the funds were spent and why they had to be spent. I think it's important to point out that many things were included that were not included in the first instance. For instance what we did for Grand Bahama, so the budget had to be changed, so they went over budget."
Mr Wilchcombe confirmed that the long-awaited report into carnival's impact has been prepared and presented to Cabinet.
"The Cabinet has taken sight of it," he said. "The commission will now meet with the media soon and discuss all the intricate details of everything, inclusive of spending and everything else."