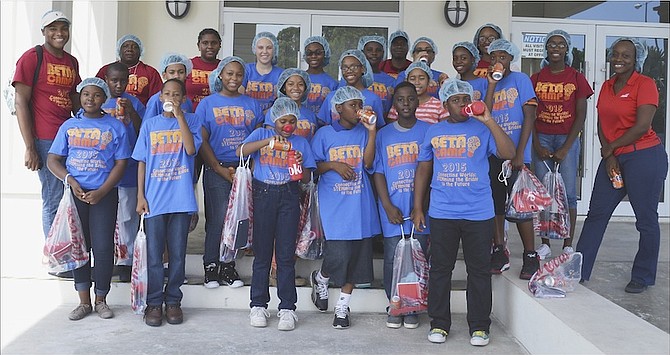 By ETHAN KNOWLES
OVER the course of last week, 85 children from all around The Bahamas were immersed in technical "streams" - various scientific courses - during the second annual Bahamas Engineering and Technology Advancement (BETA) camp.
Seventh, eighth and ninth graders, aged 11 to 14, gathered daily at The College of The Bahamas to experience a insightful glimpse into the engineering and technological fields. The week-long immersion concluded with a closing ceremony last Saturday at the New Providence Community Centre on Blake Road.
Experienced engineers Trenicka Rolle and D'Andre Wilson-Ihejirika founded the camp in March, 2014, as a medium through which they could expand the opportunities for future Bahamian engineers and expose more youth to the content that evaded them during their own primary and secondary education. The camp allowed participants to build interpersonal and critical thinking skills as well, seeing how multiple group projects with children from varying "streams" were conducted.
This year, under the theme "Connecting Worlds: STEMming the bridge to the future," the BETA camp offered courses in biomedical, chemical, civil, environmental, computer, electrical, industrial and mechanical engineering alongside computer science and web development programmes. Moreover, "sponsorships enabled public school and Family Island students to attend the camp, which focused on creating an awareness of STEM opportunities – science, technology, engineering and math – in young Bahamians" according to the organisation. The Ministry of Education, Lyford Cay Foundation and Statoil were the title sponsors for the event, helping to launch the project.
Campers were instructed by practising Bahamian engineers and volunteers throughout the week. During the camp, students were responsible for organising a presentation based on their course of study for a final Technical Demonstration Exhibition (TDE), where parents, supporters and judges viewed their findings.
Students from the various "streams" were placed into groups of four or five towards the end of the week and set the task of completing a design project with the prompt "Innovating from the Backyard to the Market." Participants were challenged to "take what they've learnt and apply it" in a resourceful manner to solve an issue encumbering The Bahamas, according Mrs Rolle. Groups four, three and two were ultimately awarded for their successful, collaborative efforts on the final design project at the ceremony last weekend.

"I definitely think it was successful this year," Mrs Rolle told The Tribune. The biomedical engineer is optimistic about exceeding this year's accomplishments in the future and feels the BETA team is "making an impact," in their altruistic efforts to supplement the education Bahamian students are receiving today.