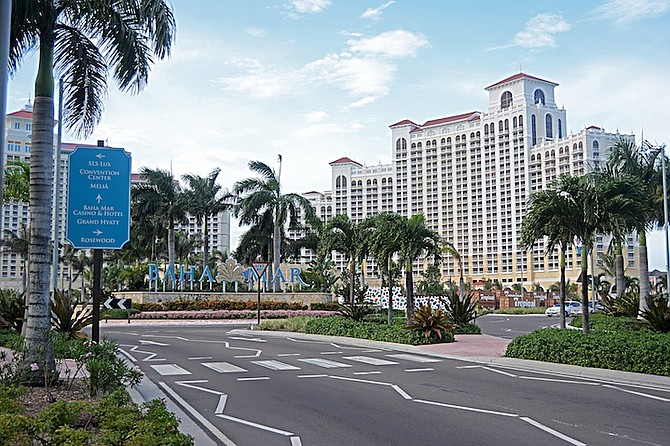 Reader poll
216 total votes.
By AVA TURNQUEST
Tribune Chief Reporter
aturnquest@tribunemedia.net
DESPITE the government's return to Beijing, Baha Mar developer Sarkis Izmirlian is seeking to strike a deal with its Chinese lender to cut the resort's general contractor, China Construction America, out of negotiations and use Bahamian contractors to complete the project, according to a letter sent to Export-Import Bank of China obtained by The Tribune.
Accusing CCA of backtracking on negotiations and holding the resort "hostage", Mr Izmirlian insisted that the only way to successfully complete the $3.5bn resort was to end discussions with the general contractor and enter into a 50-50 agreement with the Export Import Bank of China to fund the $400m needed to finish construction and open the resort.
The $200m proposal to EXIM Bank president Liu Liange was sent on Thursday, a day before the government's announcement that Attorney General Allyson Maynard Gibson would lead a delegation back to Beijing to resume negotiations between all three parties.
In a statement on Friday, CCA warned that it had a "firm, binding contract" to serve as the construction manager/general contractor for the project, adding that it was a conditional term of the $2.5 billion senior bond issued by China EXIM Bank that could not be declared void by any of the parties.
The contractor said it believed the resort could be finished in time for the winter season if a swift resolution to the current impasse is reached.
Mr Izmirlian called for a response to his proposal by today due to forthcoming legal proceedings, such as Friday's Supreme Court hearing on the government's petition to wind up the company.
He added that the resort was willing to work with the bank to resolve the pending bankruptcy cases in the US if an agreement was met. Up to press time it was not clear whether Baha Mar had received a response to its proposal.
Mr Izmirlian said the resort was ready to present a plan that would retain Bahamian contractors and expand agreements with engineers and consultants to manage the work, and that it had engaged Chinese contractors to assist the project if needed.
"We are doing all we realistically can to protect Baha Mar," the letter read, "but we can not continue to have Baha Mar put at risk by the self serving actions of others. Our goal is to have Baha Mar properly completed and successfully opened as soon as possible."
The letter read: "Baha Mar does not believe that a solution other than a negotiated solution between the existing Sponsor and the Bank is in the Bank's best short or long term interest.
"Although we have been unable, despite significant effort on our part, to find a solution with CCA/CSCEC (CCA's parent company), we can find a solution amongst the two of us. Why allow the contractor to continue to hold Baha Mar hostage?"
Mr Izmirlian said the resort was no closer to brokering an agreement with CCA despite vigorous efforts to reach a consensus, adding that while it wanted to work with all parties, it could not do so alone.
He explained that the parties had settled on a deadline for its certificate of occupancy with 100 per cent completion at October 31.
However, CCA has now changed agreement terms to a temporary certificate of occupancy with "substantially all" of the resort complete, he said.
Other revised terms demanded by CCA, according to Mr Izmirlian, is the early release of retainage funds that would contravene the construction contract and its approval process.
The resort is believed to be near completion but construction stopped months ago because of a dispute between the developer and CCA.
CCA reportedly withdrew its labour in April in a move that Baha Mar claims has put it in breach of its contractual obligations.
Mr Izmirlian has blamed CCA for the delays that forced the resort to miss several opening dates and file for Chapter 11 bankruptcy in a Delaware court. The resort also took legal action against CSCEC in the English High Court.
Supreme Court Justice Ian Winder has rejected the resort's application for approval of those bankruptcy proceedings in the Bahamas.
In his letter to EXIM bank, Mr Izmirlian explained that he was not asking the lender to take sides in its dispute with CCA but to allow both sides to enforce their contractual rights – which is Baha Mar's case in its petition before the Dispute Resolution Board and UK suit.
The new proposal comes as uncertainty looms over whether the government will continue to foot the bill for the salaries of more than 2,000 Bahamian workers for another pay period.
After the resort filed for bankruptcy on June 29, most of its employees were told to stay at home.
In a letter to staff on the status of negotiations, Mr Izmirlian said the $200m would be an investment from his family.
He suggested that the CCA's unwillingness to co-operate was due to the government's winding up petition, adding that CCA's position against the bankruptcy case was an attempt to escape accountability to the resort on performance failures.
"We are trying and willing," Mr Izmirlian told staff on Saturday, "but, if the bank and the Government of The Bahamas do not co-operate, Baha Mar cannot make a deal by itself."
"I understand that the uncertainty this is causing you is one of the most difficult things that you have to contend with right now.
It added: "We stand ready and able to move forward. Let's hope others do as well."
The letter in full, see Insight