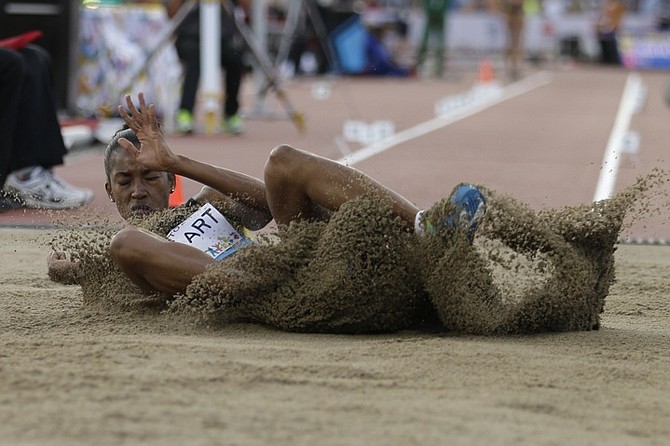 By BRENT STUBBS
Senior Sports Reporter
bstubbs@tribunemedia.net
PERSISTENCE and hard work has finally paid off for Bianca 'BB' Stuart. The national long jump record holder finally won her first major senior international medal at the 17th Pan Am Games in Toronto, Canada.
"It feels great. I give all thanks and praise to God," Stuart told The Tribune. "The hard work and effort that I've put in with coach Henry Rolle's assistance these past few years is truly paying off this season and I couldn't be more grateful."
Stuart, 27, popped a leap of 6.69 metres or 21-feet, 11 1/2-inches on her fourth attempt to add to the silver medal that Leevan 'Superman' Sands picked up earlier in the day in the men's triple jump.
She has had a good showing in the region, winning a bronze in the CAC Games in 2010 in Mayaguez and gold twice at the CAC Championships in 2008 and 2011 and a bronze in 2013 to set the stage for her trip to the World Championships in Beijing.
She finished behind Canadian Christabel Nettey, who won the gold with 6.80m (22-3 3/4) on her fifth attempt. American She'Kela Saunders got the bronze with 6.64m (21-91/2). Stuart opened with 6.32m (20-9) for fifth on her first attempt, but dropped to eighth with 6.37m (20-103/4) on her second attempt.
She moved into third with 6.57m (21-63/4) on her third attempt and, after surging to second with her best leap, she maintained it with 6.67m (21-103/4) on her fifth jump before she scratched her sixth and final attempt.
"I really didn't get a chance to celebrate per say but I was able to interact with the crowd after the competition by taking photos with many of those who were watching," she said. "I really appreciated their support."
She was even more appreciative of the support she got from her family.
"Having my parents, brother (Nyles), nephew and sister-in-law there to watch and support me made this experience even more special," she said. "Unfortunately my other two brothers Gio and Kristan couldn't make it but I'm sure they were watching and are proud."
Stuart, who lowered her national record to 6.83m (22-5) at the BAAA Nationals, is hoping to add a medal in Beijing to her collection.
"Now it is time to mentally reset for the World Championships. The Pan Am Games was just a stepping stone toward Worlds," she said. "Pan Ams will be my last competition until Worlds so I'm just going to put in some good training these next few weeks and remain focused."