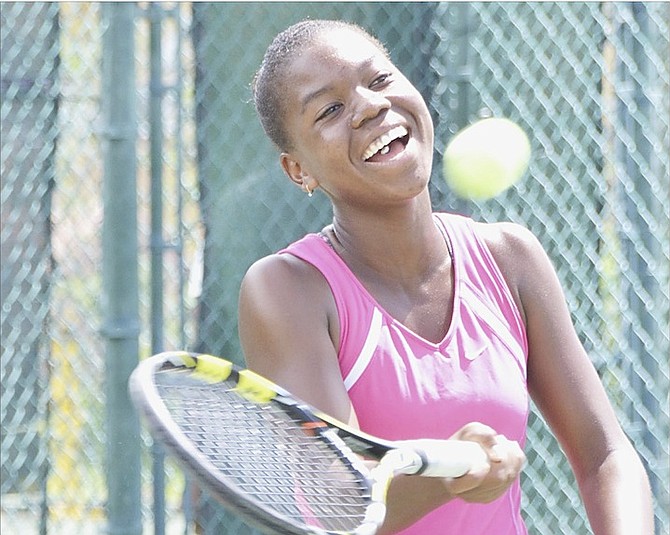 By RENALDO DORSETT
Sports Reporter
rdorsett@tribunemedia.net
A productive summer for Bahamian junior tennis ace Iesha Shepherd continues as she has now earned the opportunity to play for a regional title.
Shepherd advanced to the final of Under-16 JITIC Tournament in Santo Domingo, Dominican Republic. The fifth seed in the girls' draw, she defeated top seeded Laura Quezada of the Dominican Republic 7-5, 7-6.  
Shepherd's path to the final included wins over Aranza Benitez of Panama 6-1, 6-1 and Tiffany Almonte of the Dominican Republic 6-0, 6-1.
In the girls' consolation draw, Sydney Clarke notched another win for Team Bahamas yesterday. She defeated Jennifer Gomez of Puerto Rico 4-6, 6-1 (10-7).
Clarke opened the draw with a 6-1, 4-6 (10-5) win over Mandissa Walle of Curacao and 6-4, 6-4 win over Emma Trestrail of Trinidad and Tobago 6-0, 6-0.
The Bahamian duo lost in the girls' doubles draw 6-3, 6-3 to Almonte and Alicia Hernandez.
In the boys' main draw, Donte Armbrister fell in two sets to Junior Tavares of the Dominican Republic.
Armbrister began the draw with a 6-0, 6-2 loss to Jose Diaz of the Dominican Republic, followed by a  bye before he lost a tough match against Jose Aviles of Honduras, 2-6, 6-0 (10-8). He then faced Luke Attride-Stirling of Bermuda and won 6-2, 4-6 (10-6).
O'Neal Mortimer opened with a 6-4, 7-5 loss to Kevin Yarzagary of Aruba.
Following a bye, he faces Tavarez and won in straight sets 6-4, 6-4 before he lost to Youdi Villar of the Dominican Republic 6-2, 6-2. He is set to face Aviles for the second time in the draw.
In the boys' doubles draw, they advanced to the second round before suffering a 6-2, 6-1 loss to top seeded Diego Chavarria and Sebastian Quiros of Costa Rica.
The Bahamian pair advanced beyond the first round with a 6-3, 7-5 win over Tomas Del Olmo and Alec Kuipers of the US Virgin Islands.
The JITIC Tennis Tournament traditionally showcases the best in the age group in the Caribbean and Central American countries.
In 2014, the Bahamas' seven-member 16-and-under team, with Shepherd as the top seed, captured fourth place in a 32-main draw, a huge feat for the Bahamas.
There were 23 countries represented and the number is up to 25 this year. The Bahamas will also be participating in the 14U JITIC Tournament August 1-7.