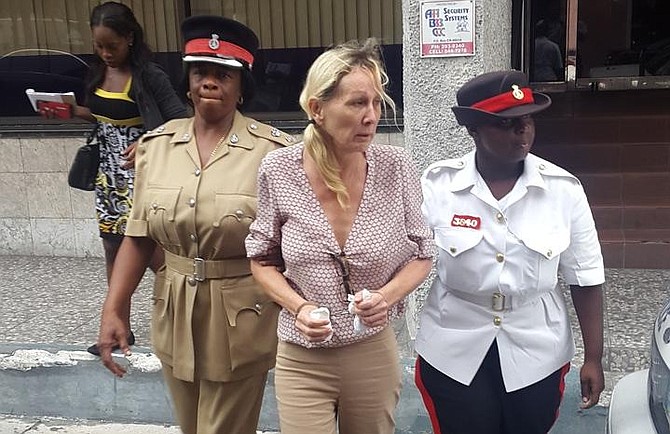 By NICO SCAVELLA
Tribune Staff Reporter
nscavella@tribunemedia.net
A TEARFUL Donna Vasyli received the birthday present she wanted last night when Court of Appeal judges affirmed a Supreme Court judge's decision to grant $200,000 bail to her on the charge she faces of murdering her Australian husband. 
Vasyli, who turned 55 yesterday, was in tears after the decision by Justices Anita Allen, Jon Isaacs and Maureen Scott, which essentially releases her from police custody ahead of her trial on September 7. She left the court without comment.
The decision came after a day of proceedings, in which Crown prosecutors adamantly contested the July 21 announcement by Justice Bernard Turner that absent trial judge Senior Justice Stephen Isaacs had granted Vasyli bail ahead of her trial in connection with the March 24 slaying of her millionaire podiatrist husband, Philip Vasyli, at their Old Fort Bay home. 
At that time, the judge observed that Vasyli "has become much thinner than when I first saw her and it would be a blight on our prosecutorial system were she reduced to a chronic state of ill health". Those concerns were also raised by counsel at Vasyli's bail hearing on July 9. 
The judge further determined that her lack of antecedents made her an unlikely danger to society or would interfere with the course of justice. 
Yesterday, Crown prosecutor Garvin Gaskin submitted that Senior Justice Isaacs made the decision without any or sufficient regard to there being no material changes in the circumstances surrounding the case, except for Vasyli's health and physical appearance. 
Mr Gaskin further submitted that Vasyli's bail should be set aside in view of her trial being in six weeks, adding that anything pertaining to her health can be dealt with by medical personnel at the Bahamas Department of Correctional services.
However, Vasyli's attorneys, Elliot Lockhart, QC, and Murrio Ducille, argued that the Australian should have bail, in accordance with Senior Justice Isaacs' previous decision and especially considering Vasyli's health. 
Mr Lockhart, spearheading submissions for the defence, contested that there was no law in the Bahamas that suggests that there must be a change in the circumstances in and/or surrounding a case for a judge to reconsider bail. 
Then, after over an hour of deliberation, all three judges announced their decision to affirm Senior Justice Isaacs' previous decision to grant Vasyli bail. The judges also concurred with Senior Justice Isaac's reasons for granting bail, dubbing them as "not unreasonable."
Vasyli, as conditions to her bond, would need two sureties to post bail. She would also have to surrender her passport to the court, be fitted with an electronic monitoring device, be placed under house arrest until the completion of her trial and report to the Lyford Cay police station three days a week on or before 6pm. 
Vasyli, who has spent four months on remand at the Department of Correctional Services, was unsuccessful on two previous occasions in getting Senior Justice Isaacs to release her on a bond. 
Senior Justice Isaacs denied her bail within days of her March 30 arraignment in Magistrate's Court and again on May 1 after the Court of Appeal had remitted the matter to him to explicitly state why he had denied bail. 
In May, the appellate court rejected her bail appeal, prompting her lawyers to consider taking the case to the London-based Privy Council for a final decision. 
Vasyli pleaded not guilty to the murder charge in a formal Supreme Court arraignment before she was given a trial date for September.