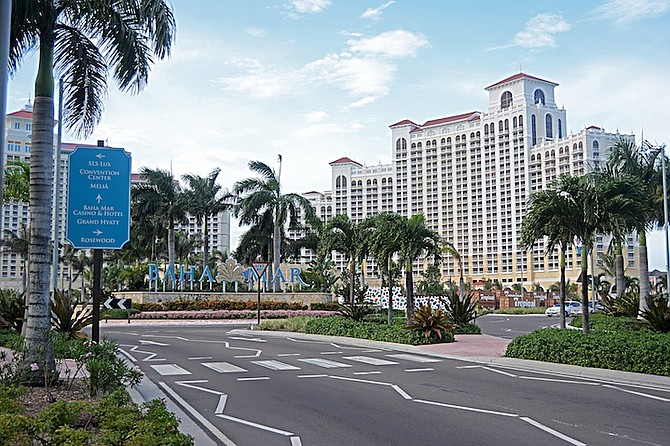 By RASHAD ROLLE
Tribune Staff Reporter
rrolle@tribunemedia.net
THE Bahamas Chamber of Commerce and Employers Confederation has come out against the government's efforts to wind up Baha Mar in the Supreme Court, expressing concern that this will not result in a speedy resolution to the resort's issues.
The chamber instead recommends to the government and Baha Mar's developers that all relevant parties use its arbitration process to move the project forward.
However, State Minister for Legal Affairs Damian Gomez said "there is no legislative scheme available that would make (the arbitration) happen".
Participation in the process, Mr Gomez noted, would be completely voluntary by the parties, suggesting that what the project now needs is a process that could not be easily disrupted by any particular party.
The government, Baha Mar, China Construction America and China Export Import Bank head to the Supreme Court this morning for a hearing on its petition to wind up the project – a process the government initiated while opposing the developers' efforts to have its US Chapter 11 proceedings recognised in the Bahamas.
The government argued that the winding up proceedings will be the quickest way to move the project forward, noting that under such a scheme, an independent, provisional liquidator would be appointed to restructure the project's affairs.
In its statement, the BCCEC advised that the fate of the country's economy should not be solely dependent on the Cable Beach mega resort. The chamber expressed concern over the fate of small and medium sized companies who were sub-contractors owed considerable sums for work on the Baha Mar project, adding that these businesses were the "lifeblood and drivers of the Bahamian economy".
"While it may be a significant component of our economy and planned economic recovery, the fate of our economy should not be dependent solely on Baha Mar," the statement read.
"However, any further delays in getting that project completed and the resort opened will have a direct negative impact on the employees and Bahamian contractors.
"Further, whilst this is a matter in dispute between contracting parties, the international investor community is also watching this process very closely and investor sentiment will be dependent largely on how the government and Baha Mar in particular deal with this matter over the next few weeks."
The chamber insisted that the "independence and impartiality" of its arbitration process, and the wealth of the international resources at its disposal, would bring a timely resolution to this "outstanding and vexing matter".
The statement released on Wednesday, said: "The BCCEC believes that it is imperative for all parties involved to find the quickest resolution to the current disputes and for the Baha Mar Resort to be completed and opened for business.
"In this vein, the BCCEC does not believe that the winding up of Baha Mar is the most expedient means to achieve this common objective."
"Instead, the BCCEC has recommended to the Government and the Developer that they prevail upon all parties to the primary dispute to avail themselves, through the BCCEC, to the expertise available from the highly reputable International Chamber of Commerce's International Court of Arbitration."