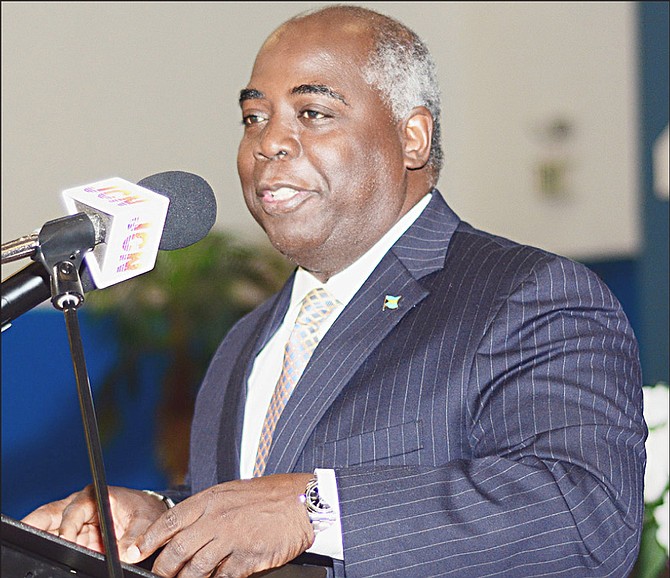 By RASHAD ROLLE
Tribune Staff Reporter
rrolle@tribunemedia.net
DEPUTY Prime Minister Phillip "Brave" Davis has dismissed Sarkis Izmirlian's criticism that Prime Minister Perry Christie is not acting in the best interest of the Bahamian people with respect to Baha Mar.
His statement came as State Minister for Legal Affairs Damian Gomez told The Tribune that the government will decide at the next Cabinet meeting whether it will continue to pay the salaries of Baha Mar's Bahamian employees.
During an interview with Jeffrey Lloyd that aired on Tuesday, Mr Izmirlian said despite what Mr Christie might believe, he is not doing the best thing for Bahamians by subverting the developer's actions with Baha Mar.
Responding yesterday, Mr Davis said: "I think he is wrong.
"What I do know is the Prime Minister is doing what he can in respect to Baha Mar on behalf of the Bahamian people.
"Now whether he is doing it on behalf of Mr Izmirilian," he said, "that is for him to think about. But I know Mr Christie's interest is not about Mr Izmirilian, but the best interest of the Bahamian people and to ensure that the project moves to where it is completed expeditiously and opened shortly thereafter. I expect a positive outcome."
Meanwhile, after two rounds of Beijing negotiations failed to result in a deal, the government is preparing to determine whether it will extend its commitment to pay the resort's employees amid criticism that paying them has set a bad precedent.
The government was mandated by a court order to pay the salaries of Baha Mar's workers this month.
The Christie Administration said it would pay Baha Mar's workers to ensure employees are not used as "pawns" during negotiations for the project after the resort's developer initiated Chapter 11 proceedings in the US.
The government had hoped that Baha Mar, China Construction America (CCA) and China Export-Import Bank would have dealt with their dispute and begin a move to complete the project by now.
Asked if the government has decided whether it will pay Baha Mar employees next month, Mr Gomez said: "We will make that decision on Tuesday. 
"Things could happen between now and then could change once's view of the situation, that's why I'm reluctant to say I believe this is what will happen."
Mr Gomez also responded to Mr Izmirlian's claim yesterday that even though the government's delegation in Beijing returned home with no deal to push the project forward, negotiations are still ongoing among the various sides even as they head for a winding up hearing at the Supreme Court this morning.
Mr Izmirlian said negotiations
had been going on for "three weeks now".
In response, Mr Mr Gomez said: "They might be communicating but what they communicating I don't know what it's worth."