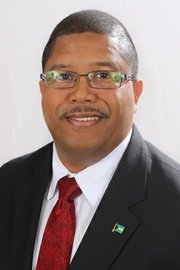 By RASHAD ROLLE
Tribune Staff Reporter
rrolle@tribunemedia.net
FNM Deputy Leader Peter Turnquest said the government's hype over the tax reductions it will implement on select items for the upcoming fiscal year is misplaced.
He added that it masks the fact that those reductions will make little difference in the lives of the average Bahamian.

This is just one component of the misplaced optimism Mr Turnquest said was in Prime Minister Perry Christie's 2015/2016 Budget Communication.
During his communication last week, Mr Christie said the revenue performance of value added tax (VAT) since its January roll out has opened the door for several customs duty reductions and some tariff eliminations to ease the burden on Bahamians.
He announced that there would be a reduction in the maximum duty rate for vehicles from 85 per cent to 65 per cent. He also said there will be an outright elimination of duty on several items, including medical equipment, supplies, bicycles, burglar alarms and audio/visual equipment used by churches.
He said the duty rate on canned and frozen vegetables will be reduced, though he did not say by how much.
Such tax reductions, he said, could spur economic growth, the creation of jobs, building repairs and improving the living conditions of Bahamians.
Mr Turnquest does not share this optimism.
"The reality is while it's nice to have the so-called reduction in duties on vehicles, he didn't say there is at least an increase of 7.5 per cent VAT on those vehicles," he said. "The relief they say you are getting you aren't really getting. It's not affecting the everyday cost of living for Bahamians, particularly poor Bahamians who don't buy cars, period. They (members of the government) can bang on desks and say what they want, but the truth remains."
Mr Turnquest also said he finds it worrisome that the latest budget does not include a breakdown of how the government will pay its interest expenses and debt.
In the past, the government has included headings in its budget book for a breakdown of projected expenditure for Public Debt Servicing.
That, however, is not included in the current budget where Public Debt Servicing is merely referenced under a heading that deals with the Treasury Department.
"That is very, very worrisome," Mr Turnquest said. "Why isn't it there? What are they hiding now? We have to be careful when they start doing this reclassification. How does that help with the transparency, particularly now that they are talking about reduction in the GFS deficit?"
A debt and interest-financing breakdown, he said, would have helped Bahamians understand how the government has achieved its touted deficit reductions.
"That way we could see the movements and you could analyse the debt categories and see where the debt reduction has occurred and say whether they are playing games again or doing a great job," he said.
Last week, Mr Christie said his administration has slashed the deficit by nearly two-thirds.