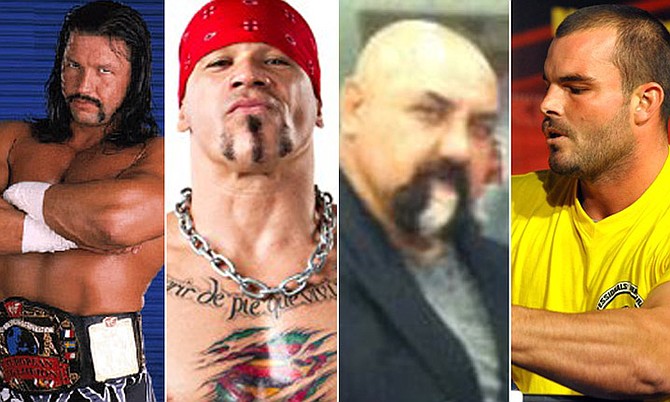 By BRENT STUBBS
Senior Sports Reporter
bstubbs@tribunemedia.net
NICK Cara and three other world champions will be among a list of eight Gladiator Championship Wrestling (GCW) competitors who will be in New Providence to promote the Xtreme Gladiator Championship that will be held over the Independence holiday weekend at the Melia Nassau Beach Resort.
The GCW Gladiators will travel to South Andros, where they will make a special appearance at the regatta on Saturday, before they return to Nassau on Monday for a press conference at the Melia.
Cara, the GCW and ECW world champion, arrived in town ahead of the group to promote the event. He serves as the president and CEO of the GCW and executive producer.
The others, including Allen Sarven, former WWF Hardcore Champion; Rafael Shawn Hernandez, the TRA World champion and Travis Bagent, the Arm Wrestling World champion, will arrive on Friday with the others before heading to Andros on Saturday.
"We are here to promote the Xtreme Championships that we are taking to the world," Cara said. "We have an event that we put on in every state in the United States and we also go to Europe. But this is the first time that we are doing an event in the islands, so we decided to start the promotions now."
While in Andros, Cara said the Gladiators will provide an opportunity for the spectators to meet and greet the superstars and they will also put on an exhibition in their bid to encourage Bahamians to gear themselves up for the showdown in July.
"We are very pleased to be able to come to the Bahamas and put on this promotion," said Cara, who has visited the country a few times but never in his capacity with the GGW. "We are very excited because we are confident that we can find some competitors who can compete in the event."
On Monday, Cara said they will outline all of the criteria for those interested in competing in the sport.
As for their trip to Andros, Corey Ferguson, one of the local organisers, said they are looking forward to promoting the sport. Ferguson, who serves as the marketing and public relations officer for Solar Verde Bahamas Ltd, one of the sponsors of the GWC, said they have a series of events in which the superstars will participate when they get to Andros.
"We've never done anything like this before, so we are looking forward to taking them to Andros and working along with the regtta committee," Ferguson said. "We want to do whatever we can to help promote the sport and get the Bahamians ready to compete in the big event that we will be putting on in July."