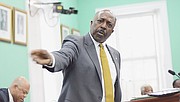 THE National Tripartite Council has forwarded a recommendation for a minimum wage increase to Labour Minister Shane Gibson for review and approval.
According to Director of Labour Robert Farquharson, chairman of the council, during the group's first meeting earlier this month a resolution was adopted for a recommendation for an increase in the national minimum wage.
"That recommendation was submitted to the minister of labour and national insurance for approval of the government," he added.
In March, Mr Gibson said he was awaiting a recommendation from the group before the government makes a decision on the matter.
Minimum wage in the private sector is $150 a week.
Earlier this year, Prime Minister Perry Christie acknowledged that the country's minimum wage is "not enough" but said the
government would raise it "incrementally" as "circumstances would allow".
Meanwhile a Bill was passed in the House of Assembly earlier this year to create the tripartite council.
The council has been formally appointed with effect from June 1.
According to Mr Farquharson, the functions and powers of the council include the practise and promotion of tripartism, and using cooperation, consultation, negotiation and compromise of the social partners in order to create and shape social and economic policies and programmes.

The council will also advise the government on the formulation of national policies and strategies on all aspects of labour, productivity, quality and competition.
Mr Farquharson said the National Tripartite Council, over the next few weeks, is expected to ratify a strategic plan in line with statutory objectives.
The members of the council are: Robert Farquharson, chairman; Althea Albury, senior deputy director of labour; Maxine Duncombe, senior Family Island administrator; Jennifer Isaacs-Dotson, general secretary/NCTUB; Theresa Mortimer, 1st vice president/NCTUB; Dr Thomas Bastian, consultant; and from the private sector Edison Sumner, Peter Goudie and Rionda Godet.