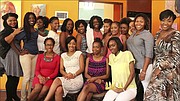 By JEFFARAH GIBSON
Tribune Features Writer
jgibson@tribunemedia.net
FEAR of the unknown has stopped many a Bahamian woman with intriguing ideas from starting her own business, initiative or programme. A recent Empowerment Brunch presented by the Pure Purpose Network had the aim of giving those women the added boost they need to get their plans off the ground.
Through its unique events, Pure Purpose has the goal of helping women get in touch with who they really are. Their empowerment and "Girl Talk" sessions have been successful and have served as an inspiration to those who have attended, organisers said.
The recent "Girl Talk" Empowerment brunch held at Mojo's Restaurant was put together with the sole aim of empowering women to chase hard after their dreams, said Simone Gibson, Pure Purpose Network's founder.
"It is difficult when venturing off on a solo project. We are intimidated and afraid. I wanted to provide the avenue of encouragement to them. I wanted to remind them that there is no need to compete, but work in a way where everyone wins," she said.
The empowerment brunch, Ms Gibson added, "was amazing".
"We had an opportunity just to connect with one another from a different aspect. We shared individual projects that we were working on. I reminded the women that no one can ever support something they know nothing of. That was exactly the case: most of the women who were familiar with one another knew nothing of projects/businesses some of the women were involved in. We all found ways to assist, giving up of time or resources – nothing like support," she told Tribune Woman.
During the event, the women heard from Bahamian restauranteur Elaine Pinder, who is the founder and CEO of Bamboo Shack, Frankie Gone Bananas and Sapodilla.
"I think it was very beneficial. Most of the ladies were just afraid to start for various reasons. After an encouraging message from Elaine Pinder and words of support throughout the brunch, they were inspired to push the business that they have started and start the process on other ventures," Ms Gibson said.
"Two of the women launched their ministries after the brunch," she said.
Ms Gibson said events as such these are desperately needed because there are many women with great ideas who need guidance and support.
"The biggest challenges are encouragement, cash flow and support. It was so encouraging hearing Ms Pinder's humble beginnings and listening to her advice; it was beyond motivating, it made us realise that we are on the right track. Her words of support sealed the deal."
A $500 gift was also given to one of the women who started a special book project.
"I also wanted to give a small investment to the business or project of another woman. I know how hard it is working on solo ventures and sometimes you just need a start," Ms Gibsons said.
"After having a difficult time choosing a winner, I chose Charissa Smith. She is in the process of writing an inspirational book for young girls and needed the money to purchase a laptop to continue writing. My hope is that with my small gift she is empowered and then can empower others."