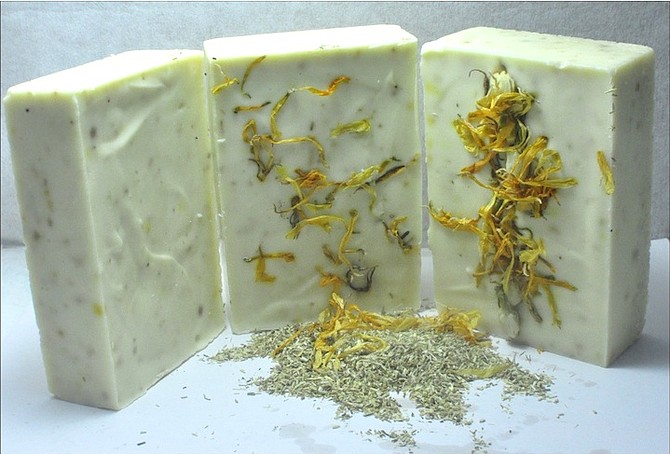 By ALESHA CADET
Tribune Features Reporter
acadet@tribunemedia.net
FOR several years now, Randell Haynes has been very particular when it comes to what products she uses on her hair and skin.
This mindfulness led to the creation of her very own home-based natural body product line known as Dell's Naturals.
Dell's Naturals products include whipped shea butter for hair, body creams, sugar scrubs, hair and beard salve for men, soaps, shampoo, hair masks, bath bombs and lip glosses.
"I just wanted something more natural with ingredients I can pronounce and without harmful chemicals," Randell told Tribune Woman.
"I'm not out here to cure any skin ailments, I don't claim that at all, but I just want to find more natural alternative products that are good for your skin and hair. I love creating new products, using ingredients people in Nassau wouldn't think to put in soap, like beer, wine or teas."
Since starting her business almost four years ago, Randell has learned a great deal. She said it is important to be patient and understand that she is not going to get a perfect recipe every time. Her aim is to give people products that are 95 to 100 per natural.
"People who try my products love them. Some comments I receive speak about how their hair feels soft, manageable and how great it smells. Some of them have to hide their soaps from their family members so they won't use it. I have somebody who doesn't go to the store anymore for soaps, they just wait on me to make some," said Randell.
Before launching Dell's Naturals, Randell said she began to notice her excessive spending and shopping habits when it came to purchasing natural products for her hair. Trying a number of different regimens, she quickly became what she calls "a product junkie", a routine that she could not keep up.

"Have you ever seen all the products a naturalista uses for her hair? Everything on God's green earth is in her cupboard. Literally, a natural black female's hair is very high maintenance. I'll admit I was one of those women. I can barely remember to take vitamins and work out from time to time, much less follow through with all the junk I thought I needed for my hair. We complicate things so much for no reason. Certain hair products aren't really as natural as they claim to be, you might get an 80 per cent 'all natural' product, but with all those chemicals they put in (the products) to give them a greater shelf life it really leaves your hair sometimes dry and with that icky feeling," she said.
Randell took her concerns to the internet where she researched products that were just right for her hair texture. Discovering a recipe for whipped shea butter, Randell said she just had to give it a try, but adding her personal twist.
"I tried it and continued to tweak it to suit what I wanted, and my whipped shea butter mixture was born. I whipped some up for couple of my friends and they loved it," said Randell.
Her sister, Alisia, later inspired her to start making soaps due breakouts on her face. Randell said no matter which type of specific creams or lotions her sister would use, it never made a difference when it came to her skin.
"I stumbled on a soap making channel and it was so cool to me that I had to try, and again I researched things that are good for the skin, and slowly but surely the soaps I made helped clear up those dry patches – not a cure, but it helped soothe the skin," said Randell.
The women in her life play major roles in her life and career. From her mother Margaret and sister, to her grandmother Delores, who passed away last October, Randell said growing up in a house full of women, it is almost impossible not to learn how to be strong, independent and follow your own dreams and intuition.
Randell said her company is always expanding its product line, and she is hoping to one day add laundry detergents to the list. Another goal is to get Dell's Naturals into grocery stores, hotels and spas.