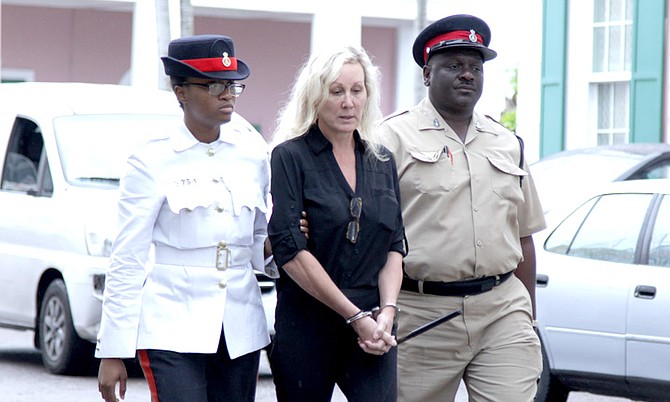 By NICO SCAVELLA
Tribune Staff Reporter
nscavella@tribunemedia.net
DONNA Vasyli, who is accused of her Australian husband's murder, was formally arraigned in Supreme Court yesterday.
Vasyli, 54, the wife of deceased millionaire podiatrist Phillip Vasyli, will return to court on June 29 to face Senior Justice Stephen Isaacs, who will then begin setting up the case management and trial.
Previously, she had her bail appeal rejected by the Court of Appeal, leaving her legal team with the option of taking the case to the London-based Privy Council for a final decision.

Murrio Ducille, Vasyli's lawyer, told The Tribune that the rejection from the appellate judges subsequently allowed his client to exercise her "further right" to appeal to the Privy Council to have her request for bail granted.
On March 24, Mr Vasyli was found dead at the couple's Old Fort Bay home with multiple stab wounds. He was the owner of four podiatry clinics - three in Sydney, Australia, and one at the Old Fort Bay Medical Centre in New Providence.
His wife has been on remand since March 30, when she was arraigned in connection with the murder. However, she has since applied twice for bail to the Supreme Court.
Vasyli's lawyers filed documents in the appellate court on May 4, days after Senior Justice Isaacs, who was ordered by the Court of Appeal to reconsider his initial refusal of bail over a month ago, denied bail a second time to the accused.
In May,The Tribune reported that Vasyli said she would submit an alibi to the Office of the Attorney General in 21 days.