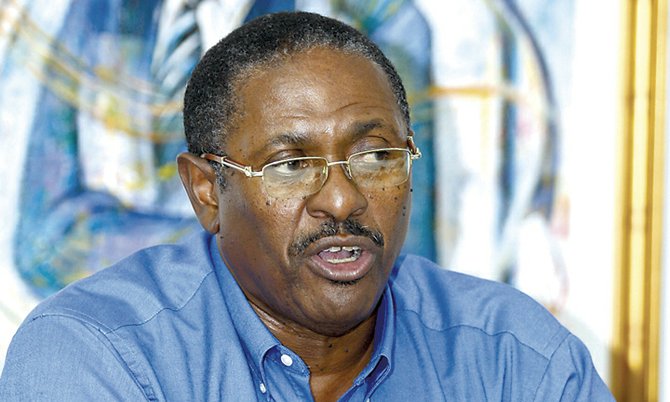 By NICO SCAVELLA
Tribune Staff Reporter
nscavella@tribunemedia.net
PLP Chairman Bradley Roberts yesterday said the Progressive Liberal Party will be releasing a statement "very shortly" on a potential replacement for Marco City MP Greg Moss, who resigned from the party this week due to a problem with leadership.
Mr Roberts also dismissed rumours that a woman official in the government's Urban Renewal programme stationed in Grand Bahama was a frontrunner in the list of candidates to replace Mr Moss as the party's standard-bearer in the constituency.
On Monday, Mr Moss shocked the House of Assembly with the announcement of his immediate resignation from the PLP, informing Speaker of the House Dr Kendal Major that he would have to assign him a new seat in the House when he returns to Parliament. He said his conscience prompted him to leave the PLP because the party no longer abides by the founding principles that prompted its rise to power. His resignation took effect on Tuesday.
On Tuesday, Mr Roberts said that Mr Moss squandered a "golden opportunity for public service" in quitting the party. Mr Roberts also claimed that Mr Moss was extended an invitation by Prime Minister Perry Christie to join the Cabinet after the last general election, but claimed that Mr Moss "pouted, complained and preened publicly" when his conditions were not met.
When asked yesterday if the PLP had identified and selected a potential replacement for Mr Moss, Mr Roberts said: "We have branches in each of the constituencies. The branch will be issuing a statement very shortly on Mr Moss."
Responding to speculation that a female Urban Renewal official stationed in Grand Bahama is the favoured candidate, he said: "That has been rumoured from King Hatchet was a hammer. That's an old rumour."
On Monday night, as he wrapped up his contribution to the budget debate, Mr Moss disclosed his plans to resign from the PLP with immediate effect. His resignation letter was sent to Mr Roberts, Prime Minister Perry Christie and Dr Major on Tuesday.
In that resignation letter, Mr Moss said he came to the conclusion that as the PLP heads into its fourth year in this term as the governing party, he no longer believes his values for the country are shared by the party's leadership.
Those goals, he said, include enacting legislation to advance the interests of Bahamians in relation to mortgage foreclosure relief, equitable taxation reform, interest rate reduction, electrical rate reductions, meaningful consumer protection legislation, gasoline tax reduction and improved minimum wage legislation, among others.
Mr Moss said while he continues to subscribe to the political philosophy of former Prime Minister Sir Lynden Pindling, the PLP no longer has the philosophical underpinning that prompted its growth.
Mr Moss has said that he has no intention of joining the Free National Movement, but will remain an independent representative for Marco City.