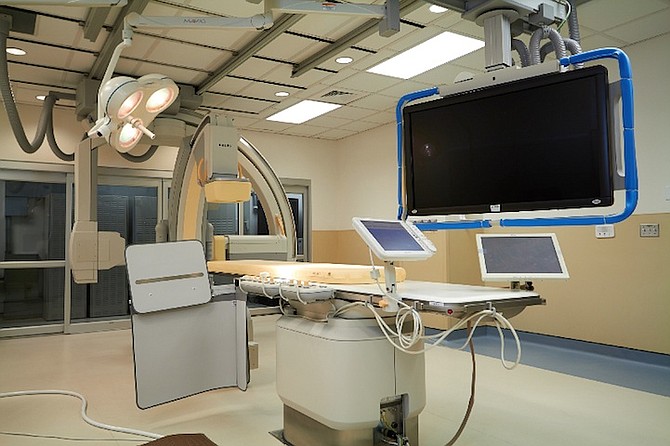 By DENISE MAYCOCK
Tribune Freeport Reporter
dmaycock@tribunemedia.net
OKYANOS Cell Therapy Clinic held its first open house on Friday allowing persons inside for a guided tour and to see how stem cell therapy is performed at the facility in Freeport.
Many persons took advantage of this rare opportunity and were able to see the Philips cath lab – the most advanced cardiac catheterisation lab used for adult stem cell therapy.
Visitors were taken on a 15-minute tour in groups of about 10 at a time. The clinic, which was built at a cost of some $10m, opened last October and occupies the entire the second floor of the First Commercial Building.
It is the first stem cell therapy facility of its kind in The Bahamas, treating patients with advanced coronary heart disease, as well as a variety of other illnesses and conditions, with marked success.
Todd Malan, chief cell therapy officer at Okyanos, said the purpose of the open house was to inform people about what the facility and stem cell therapy is all about.
"We have been here working hard to get ourselves established and to get everything working well since October, and we really had some incredible success," he told The Tribune.
"Some of that success has been with people here on the island that have talked to their friends and neighbours and say 'this is what these guys are doing.' But, for the most part people drive by everyday and say 'there is that stem cell place, what do they do?'."
Dr Malan said that adult stem cell treatment can cover a broad range of illnesses and conditions, including persons with poor blood flow, heart disease, and degeneration of tissue or organs, such as patients with rheumatoid arthritis. He said that diabetic patients, and persons with Multiple Sclerosis can also be treated with adult stem cell therapy.
"We have treated patients (here) in their 80s and in their teens also," he said.
According to Dr Malan, the stem cell therapy procedure is very safe and recovery is quick, with patients leaving the same day.
He noted that persons with arthritic knee problems will be told by their doctors that they will have to get joint replacement surgery when they can no longer bear the pain.
"With that, there is so much down time discomfort and paint associated with that, and while you can function well, you are still limited in your activities because you have an artificial joint," said Dr Malan.
However, he explained that stem cells actually rebuild damaged cartilage.
"Stem cells regrow the blood supply so that the cartilage can last longer so we can really restore you back to normal and so you don't need to undergo such a dramatic surgery," he explained.
During the tour, visitors were shown a Cytori device, which is used to separate stem cells from the fat tissue, which is extracted from the patient. This process takes two-and-a half hours, and can yield 20 million to 170 million stem cells.
When asked whether they have encountered any challenges when administering stem cell therapy to patients, Dr Malan said the procedure is very safe.
"Thousands of these procedures are done throughout the world and they are safe; statistically, it is safer to have this procedure done than to drive your car," said Dr Malan, who has been involved with stem cell research since 2009.
"We do take care of some very sick patients with severe heart disease and immune disorders. When dealing with them, even though it is a minor procedure, we still have to have the capability of taking care of some really sick patients, and we have a wonderful facility that has capability of dealing with a wide verity of illnesses and conditions," he said.
There are five recovery rooms that are equipped as ICU units at the facility. The total time that patients spend at the clinic is from five to six hours, depending on the kind of treatment, and cardiac patients spend 12 hours.
The clinic has treated a fair number of patients from Grand Bahama and Nassau for everything from heart disease to Alzheimer's and joint disease.
"We are very impressed with how quickly the word has spread among folks on the island in regards to (a) treatment option that is better than anything available in the US," Dr Malan said.