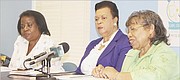 By RICARDO WELLS
Tribune Staff Reporter
rwells@tribunemedia.net
THE Bahamas Girl Guides Association has announced the names of those being honoured at their "One Hundred Years of Influencing Lives" centennial celebration as the organisation's leaders call for a "new outlook" to ensure the proper development of the nation's young girls.
Anita Bernard, the BGGA president, said organisers are "overjoyed" that the programme they "love and support so much" has reached this milestone. However, she admitted that there is still so much more that needs to be done to affect more lives. "There needs to be more on our end to give a new outlook to guiding, there needs to be some adaptation because times have changed," she said. "Let's be honest. There is so much more we have to do to keep their attention of our girls in this generation. We have to work extremely hard to ensure the proper development of our girls."
When initiated in October 1915 by Lord and Lady Baden-Powell, the BGGA has remained committed to its promise of service to others and country. Mrs Bernard added that those principles of service is what separates the guides from other youth based programmes operating around the country. "The morals we pass on to the young ones that we work with is something that they reflect all throughout their lives," she said.
"Many of the prominent women in our society today have passed through, at some point, our guides programme and if you asked them, they would tell you that the morals and character principles taught to them in guides had a lasting impact on their lives. That is what we need to pass on to our girls now; with all the distractions around them we have to work harder, do more. In more recent times we lose a lot of our girls when they get into their teen years and that is when they need those principles more than ever."
As a part of their centennial celebrations the BGGA plans to hold a centenary challenge badge award ceremony and a 100th birthday bash in addition to the organisation's Centennial Ball, scheduled for October 23 at Melia, Cable Beach, and a Thanksgiving Service scheduled for October 27 at Christ Church Cathedral at 4pm.
Co-chairs of the Centennial Committee, Julia Burnside and Elma Garraway, labelled the month of October as a month of celebration. "Join us for the launch of the Commemorative Stamp and Exhibition, enjoy the Birthday Bash and Challenge Badge Award Ceremony, and give thanks to God in a Thanksgiving Service," said Mrs Burnside.
Mrs Garraway invited all former guides and friends of guiding throughout the Bahamas to support the association as they give thanks for 100 years and planned for a new millennium of developing character, confidence and courage in girls and young women hoping to become productive citizens who can change their community and the world.
According to Mrs Bernard, who also serves as chair of the Centennial Luncheon and Ball committees, 18 leaders, two council members and two former guides will be honoured on Saturday, June 20, at a luncheon at Sapodilla restaurant, West Bay Street.
Among those being honoured are Constance Miller, Louise Barry, Karen Lightbourne, Carolyn Young, Michelle Bailey, Mary Mortimer, Ellen Daniels, Veronica Smith, Sharon Ferguson, Sharon Sawyer and Sue McCrae for more than 30 years of service; and Ruth Bowe-Darville, Diane Dean, Marsha Stewart and Diane Morley, who are being recognised for their outstanding contribution to and support of guiding in the Bahamas.