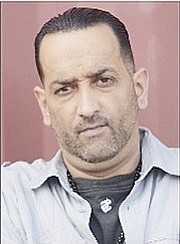 By Inigo 'Naughty' Zenicazelaya
GROWING up in the Bahamas there was a Saturday fixture at noon. Championship Wrestling from Florida, with host Gordon Solie.
This popular show was enjoyed by young and old alike and pitted families against each other in support of their respective favourite wrestlers.

There were tons of "wrestlers" with their own unique ring personas who captivated or amused the crowds in the arenas or watching on TV immensely.
MY TOP FIVE WRESTLING INTERVIEWS OF ALL TIME
MY TOP FIVE WRESTLING
INTERVIEWS OF ALL TIME
Dusty Rhodes
The Rock Dwayne Johnson
Stone Cold Steve Austin
Hulk Hogan
Degeneration X – Sean Michaels, Triple H and the New Age Outlaws
What was so special about the show it featured the most popular "wrestlers" from all over the country and various successful regional promotions (this was long before Vince McMahon and the WWE juggernaut monopolised the market by buying out all of the independent promotions and federations.)
All of the stars that frequented Championship Wrestling from Florida were under the NWA (National Wrestling Alliance) banner. Greats like Dusty Rhodes, Harley Race, Ric Flair, Dory and Terry Funk, Jack and Jerry Briscoe, Kevin Sullivan, The Purple Hayes, Black Jack Mulligan, Barry and Kendall Wyndham, Mike Rotunda, Lex Luger, Kendo Nagasaki, Jessie Barr, The Cuban Assassin, Steve Keirn, Mike Graham, Scott McGhee, The Nasty Boys, Diamond Dallas Paige, Tyree Pride and The Fabulous Freebirds just to name a few.
If you look at this list carefully you will see that each "wrestler" mentioned was a multiple title holder in the Florida promotion and then later on in the WCW (Ted Turner's Atlanta based promotion, that took on the WWE and lost) and the WWE. These men were entertainers and students of the profession, who respected and loved the business passionately.
So of course I was deeply saddened when my longtime childhood friend and "wrestling" aficionado in his own right, William Chea, relayed via social media the passing of Dusty Rhodes. I was floored, and to this day I'm still a bit melancholy on the loss of one of my childhood heroes.
You see, Virgill Riley Runnels alias "The American Dream" Dusty Rhodes, was the original "trailblazer", bringing many a new revolutionary gimmick or angle to the storyline of matches. (Yes wrestling is scripted, or "fake" - sorry to disappoint some of you.)
You could follow a "Dusty" storyline for weeks. His battles with Kevin Sullivan and his forces of "evil" and the very braggadocious, flamboyant Ric Flair and the Horsemen Arn and Ole Anderson and Tully Blanchard were legendary.
"Big Dust" knew how to sell the product - his gift of gab was one of a kind. He combined everyday issues with a brash in-your-face, yet very popular and hip vocabulary. He talked into the pulse of the fans. He made you feel like he was talking directly to you through the television and he knew the "hard times" you were going through. He was clearly the blueprint for today's more famous wrestling "smack talkers", The Rock, Stone Cold Steve Austin, Jon Cena and Bray Wyatt. You can see a big piece of Dusty Rhodes in their delivery, and style. It's undeniable!
One thing about Dusty and his counterparts - they could make your problems disappear for an hour on Saturday afternoon or for hours on a Saturday night, bringing families together for the live shows at the Nassau Stadium. Kudos to Mr Charlie Major Sr for bringing those awesome live shows to our shores. Some of those battles are still reminisced over in bars and barbershops island wide.
Another Charlie, Johnson as a matter of fact, who was General Manager at Club Waterloo at the time, made sure the "wrestling stars" had an official watering hole when in town. This was simply the best: watch the matches on TV during the day, see the live show Saturday night at the Nassau Stadium and party with the grapplers at Waterloo till the sun came up or the libations ran out!
Ah, the good old days. Gone never to be seen again, thanks to Vince and the WWE.
In closing, Dusty Rhodes didn't just entertain me in my youth, he inspired me, as an entertainer and father. (Dustin Rhodes alias "Goldust" and Cody, his younger brother aka "Stardust", have had successful careers and look to carry on the Rhodes legacy.)

Dusty made me see and believe in self-expression - original, thought provoking, attention-grabbing self-expression. He made me see it was okay to be brash and loud and over the top; just make sure you held the audience ear when you said what you had to say.
I thank Dusty for his inspiration, motivation and weekly lessons on TV. As you can see, even if I do say so myself, you can achieve great results with being able to "talk the talk and walk the walk" like Dusty often said. (17 years as a professional stand-up comedian, multiple award winning radio personality with the no.1 morning show on the dial and now columnist for The Tribune.) I also learnt from Dusty that you have to back up your talk with action to match at all times. Continue to enjoy riding on the edge of that lighting bolt "Big Dust", may you rest in peace and rise in glory. Thanks for the memories!
NBA FINALS
As far as the NBA goes, looks like "Naughtydamus" is about to do it again!
I said Golden State in six and after tonight's game 6 we can use a very popular "dancehall" lyric to describe the situation - "It's all over".
Yet again another trip to the finals and another loss for LBJ!
LBJ is the King alright - the King of losing records in the Finals. None of the greats had that blemish on their resume.
Once it's official, you will get my full opinion on LeBron, LeLoser in next week's column I promise.
Until next week I will leave you with this.
"Remember the people saying you can't or you won't. Are really the ones scared you will."
Go hard and then go home!
• Naughty presents 'Mischief and Mayhem in da AM' on KISS FM 96.1 from 6am to 10am, Monday to Friday. Comments and questions to naughty@tribunemedia.net