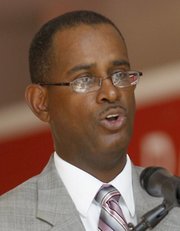 By AVA TURNQUEST
Tribune Chief Reporter
aturnquest@tribunemedia.net
FORMER National Security Minister Tommy Turnquest yesterday said he had "no intention" of throwing his hat into the ring for the 2017 general election as two other former Cabinet ministers from the Ingraham-led administration expressed interest in returning to frontline politics.
FNM Senator Carl Bethel, a former attorney general, told The Tribune he was definitely interested in a candidacy, but had not as yet formally applied for a nomination.
Meanwhile, former Education Minister Desmond Bannister said he was still discussing the matter with his children.
"I have no intention to run in the 2017 election," said Mr Turnquest when contacted. The former Mount Moriah MP lost his seat to the Progressive Liberal Party's candidate, Arnold Forbes in the last election.
Responding to questions of potential FNM candidates, he said: "I think the party must have a balanced mix of candidates with experience. Some new faces, some experienced, some young, some not so young, with various disciplines, whether banking, law, or accounting, or medicine – the general professions. You need to have a mix and it should be representative of our society."
Mr Turnquest added: "We have a lot of bright young people, they need exposure, they need mentorship, some degree of training and political seasoning." I think the FNM has done that in the past, I've been a beneficiary of that."
The critical need to attract and expose young Bahamians to public service was also shared by Mr Bannister, who pointed to a growing cynicism towards politics.
Mr Bannister underscored the need to entice more youth leaders to public service, adding that it was time to say goodbye to career politicians.
"I think it's absolutely critical that young Bahamians make commitment to public service. I see a cynicism among Bahamians (in) regards to politics, I think we need to get them to appreciate it as a noble area of personal service.
"Not everyone gets into it for self-aggrandizement. There are lots of people who want to give to public service. We have to encourage them to step forward, we ought to be saying goodbye to the days of career politicians, to people who can't seem to get enough of being in public office."
Party insiders have pointed to Mr Bannister as the likely candidate for Central and South Abaco after it was confirmed earlier this year that current area MP Edison Key planned to retire at the end of this term.
However, Mr Bannister said his children would ultimately make the decision on whether he would return to frontline politics, as they were the "most important factor" in his life.
Mr Bannister represented the Carmichael constituency from 2007 to 2012 but ran unsuccessfully in the North Andros race in the last election.
He underscored that future leaders must uphold honesty and transparency in governance as the country enters a new age of politics.
"Over the last three years, our country has seen a level of obscurity that some might say we have never seen before in history and its important for any government and people who seek to give public service to be transparent."
"Young people on social media are questioning everything. It's not the old thing where you mark an 'x' for the party your parents supported all your life. This generation is asking a lot more questions, but amazingly the government has been able to get away with not revealing information that ought to be in the public domain. This has impacted strength of our democracy.
"I hope that this government and any government will adopt a higher degree of transparency and honesty with Bahamians. In good or bad times it's important for people to appreciate how government works," Mr Bannister added.