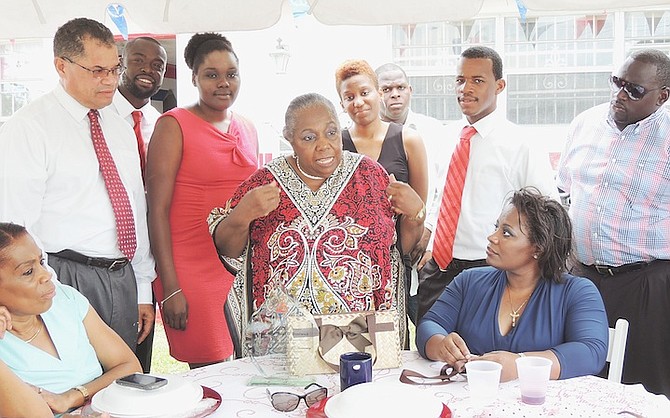 JANET Bostwick, who, in June 1982, became the first woman elected to the House of Assembly, has been honoured for her dedicated service to the Free National Movement and to the Bahamian people.
Mrs Bostwick was recognised at a luncheon sponsored by the FNM Yamacraw Constituency Association on Sunday at its headquarters off Prince Charles Drive as part of a weekend to mark the 33rd anniversary of her election to Parliament.
Earlier she had worshipped at The Church of the Epiphany with FNM leader Dr Hubert and Mrs Minnis; Dion Foulkes; Joshua Sears; Monique Gomez, President of the FNM Women's Association; Synida Dorsett, Chairperson of the FNM Yamacraw Association; other executives and members of the FNM Yamacraw Association; and other party supporters.
Mrs Bostwick, an attorney, was also the first woman Attorney General and Minister of Foreign Affairs and served as the first woman Secretary General of the Bahamas Public Service Union. She was the FNM representative for Yamacraw for 20 years in the House of Assembly. She is married to J Henry Bostwick, QC, a former parliamentarian and Leader of the Opposition, and they have four children.
The previous day a Family Fun Day was attended by Loretta Butler Turner, Dion Foulkes, Phenton Neymour, Shonnel Ferguson, Dr Duane Sands, Joshua Sears, Francis Sawyer, Deputy Chairman of the FNM, and other party officers and FNM Yamacraw members.