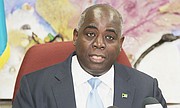 By RASHAD ROLLE
Tribune Staff Reporter
rrolle@tribunemedia.net
DEPUTY Prime Minister Philip "Brave" Davis said he hopes future Speakers of the House of Assembly won't follow the precedent Dr Kendal Major set when he allowed Fort Charlotte MP Dr Andre Rollins speak in Parliament Wednesday night.
The Cat Island MP suggested to reporters yesterday that Dr Major allowed his emotions to influence his decision rather than the rules of the House of Assembly.
His statements came after Wednesday night's dramatic conclusion to the 2015/2016 budget debate. It started when Mr Davis, who appeared to be getting ready to make his budget contribution, "put the question forward" to abruptly end the debate.
At that time, Dr Rollins had not made a contribution nor had Mr Davis or Minister of National Security Dr Bernard Nottage. Prime Minister Perry Christie also did not wrap up the debate, as is customary.
This led to a stand-off between the House Speaker and members of his own party, who urged Dr Major to adhere to the rules of the Lower Chamber and move for the close of the debate.
Dr Major, who defended Dr Rollins' right to speak, suggested that he was uncomfortable with what appeared to be an attempt to silence the outspoken MP.
Mr Davis yesterday denied that this was his motive, however, saying he was only concerned with government efficiency, not with stifling Dr Rollins.
He said he felt the budget had been sufficiently debated, with 40 hours devoted to discussing it in the House during the last two weeks.
"We needed to try to be ready for other things," Mr Davis said. "The issue of Baha Mar was looming and even as we were sitting there, communications were ongoing between the prime minister, who was keeping us updated. He was not sitting in his usual seat. He was in the backseat so that he could communicate without distracting what was going on.
"So we elected to put the question (about ending the debate) to be asked. If I spoke – that's two hours, the minister of national security (would have) had two hours, and the prime minister had unlimited time – so it could've been three hours. That's already five hours of communication and, of course, the one hour for the member from Fort Charlotte, (making that potentially) six hours."
He added that the government wanted to end the debate on Wednesday because of several important events scheduled for yesterday, including the launch of the government's National Development Plan and "intense facilitation meetings" with Baha Mar and the China Export-Import Bank.
"We felt from the government's point of view it would be a more prudent and a more useful use of our time to attend to these matters. (It had) nothing to do with the Fort Charlotte matter," Mr Davis stressed.
As for Dr Major, Mr Davis invited reporters "to look at the (House) rules and see what the rules say and see whether he was right".
"I maintain my position that he was wrong in his decision but he made the decision and I abided by it as you saw," he said.
He added: "(The Speaker's actions set) a precedent. I hope other Speakers will not follow that. In fact, he has indicated before that he seeks advice from other Speakers around the region. I trust he would have some talks with them about matters of this nature."
In spite of this, Mr Davis said the Speaker's ruling will not impair the relationship between the two men.
After he got the opportunity to speak, Dr Rollins concluded his fiery speech by quitting the governing party, becoming an independent representative.