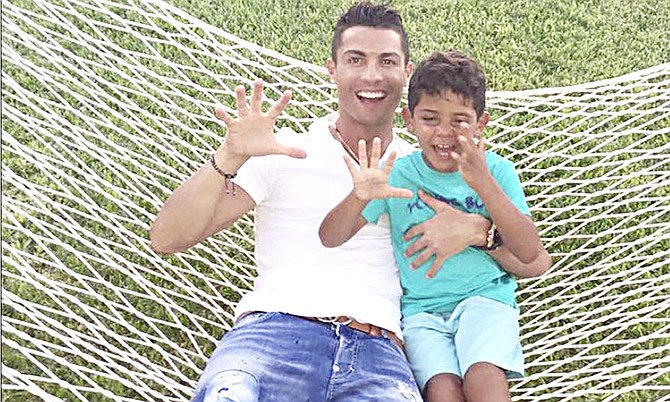 THE WORLD'S best footballer has been in the Bahamas, celebrating his son's birthday and Father's Day at the One & Only Ocean Club, Paradise Island.
Cristiano Ronaldo, the Real Madrid and Portugal star, is a proud father and the 30-year-old often gives a glimpse of family life with Cristiano Jr – who turned five on Wednesday – on social media. He posted a photo of them relaxing in a hammock at the Ocean Club on his Facebook page with the caption "Celebrating my son's 5th birthday".
The photo has received almost two and half million likes from fans. Ronaldo became a father in June 2010 when his son was born in the United States. He has full custody of the boy and has never revealed the identity of his child's mother. Recently, he said that his son is his biggest supporter in the build up to important soccer matches. "It is fantastic to hear our son wishing 'Good luck Dad!'" the footballer wrote on Instagram.
Ronaldo also occasionally brings his son to sporting events, and was joined on stage by Cristiano Jr as he collected the Ballon d'Or prize after being voted the world's best player by FIFA in January.
Ronaldo has also played for Manchester United, one of the world's biggest clubs, and his extraordinary goalscoring feats for club and country have brought global recognition. He has scored 225 goals in 200 appearances for Real Madrid and 55 goals in 120 games for Portugal, who he captains. He has scored hat-tricks in his last two matches.
Ronaldo is not the only top flight footballer to have visited The Bahamas recently - with Wayne Rooney posting pictures on social media of his family with the swimming pigs in Exuma.