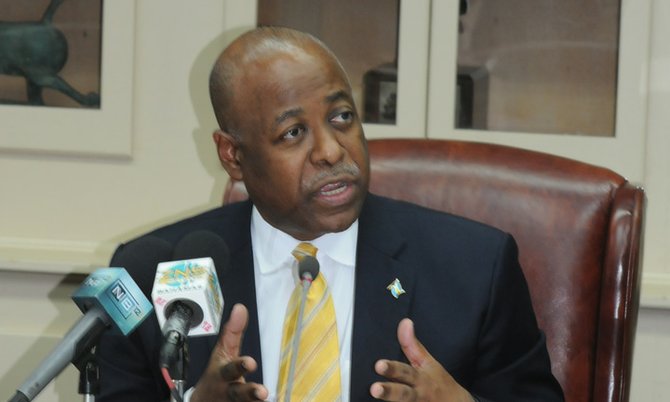 By NICO SCAVELLA
Tribune Staff Reporter
nscavella@tribunemedia.net
THE government has extended the web shop industry's transition period until an unspecified date, Tourism Minister Obie Wilchcombe confirmed yesterday.
Mr Wilchcombe told The Tribune that the Gaming Board has advised that the transitional period for web shop operators be continued due to the "amount of work that must be reviewed and assessed."
Mr Wilchcombe is the minister responsible for gaming. He did not specify a date on which officials would release the names of the successful web shop operators who will receive gaming house operator licenses. Nonetheless, he said Gaming Board officials are seeking to complete the work "without compromise of scrutiny."
The announcement on which web shops will receive licenses was expected by the end of this month.
"Due to the amount of work that must be reviewed and assessed the (Gaming) Board has advised that the transitional period be continued," the minister said yesterday.
"We are determined to ensure the highest and internationally accepted level of transparency."
In March, Mr Wilchcombe confirmed that 10 web shop operators submitted RFPs in their bids to obtain gaming house licenses, and were subsequently set to undergo "strict scrutiny" from the Gaming Board in order for them to operate legally in the country.
He said the 10 companies would face "due diligence investigations" that would delve into all aspects of their operations with the aim of establishing whether the applicants, their shareholders and directors, and staff are deemed to be fit and proper to hold the licenses for which they have applied.
In February, Mr Wilchcombe said that the government would reveal the approved list of web shop operators in May or June. However, he did not confirm how many operators would be announced at that time.
In March, Island Luck CEO Sebas Bastian told reporters the process of applying for a license had cost his company more than $200,000.
He has since opened a new web shop location at the former Kentucky Fried Chicken store in the Village Road shopping plaza.
However, Mr Bastian has dismissed criticism that the opening was "premature." He said the opening of Island Luck's "Select" web shop had been planned "long before the Gaming Bill had passed."
He added that if he was unsuccessful in obtaining a license, the web shop would be "one, beautiful place that will be for rent."