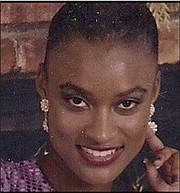 By JEFFARAH GIBSON
Tribune Features Writer
jgibson@tribunemedia.net
MICHELLE Turnquest's writing is directly impacted by her spiritual life and personal journey with God.
According to the Bahamian educator and writer, her inspiration flows directly from her spiritual connection. In fact, the romance that is shared between the two main characters in her latest book, "Waiting On Love", is a symbolic of the relationship that God has with his children.
"Waiting On Love" is just one book from the "Pleasant Dreams" series by the author. The other books include "Will You Walk With Me For Miles", "Cover Me In Your Love", "Romantic Encounter", "I Fell In Love At the World Day of Prayer", and "I Surrender All".
"Waiting on Love" follows the relationship between Deal, a pastor from the US, and Pleasant, an ordinary Bahamian girl. Deal is a pastor who pursues Pleasant. He is able to win Pleasant's heart and the couple later tie the knot. They are focused on creating, a fun, loving relationship with one another.
"God has inspired me to write about romance because in 'Songs of Solomon' God is very romantic. As the Holy Spirit gives me ideas of how to spend time together and how to romance your mate and love that person intimately, I write these ideas down. It is magical. I love the way that Deal makes Pleasant feel. I like the way that they want to show affection and love towards one another. So it's like having the magic of love come alive," Ms Turnquest told Tribune Woman.
As "Waiting on Love" is a Christian romance book, it addresses many of the issues for which people sometimes seek the assistance from their local pastors. Those issues include dating, love, intimacy, marriage, abuse, drinking, spousal abuse, divorce, and more.
"The book is filled with prayers and intercessions. It is filled with scriptures to support biblical principles. It especially discusses the good, the bad, the ugly things that people do to each other in relationships. The book also encourages readers to learn from someone else's mistakes. It encourages us to treat each other better. It encourages couples to love one another and not manipulate each other," the author said.
Ms Turnquest said there are many Bahamians who are in dysfunctional relationships and do not know how to love their partner in the appropriate manner. She hopes readers learn how to love after reading her book.
"Readers are informed about the importance of God in your relationship throughout the book. I believe we must return to one basic principle – 'I love you so much I will never mistreat you". We need to stop playing with people's emotions and say, 'Honey, because I love you I really want what is best for you. Trust me. I married you because I could see myself being with you forever. I could see me spending my time with you. I could see me falling in love with you'," she said.
"I hope that after reading the novels we will treat each other with respect. We will discuss challenges in our relationship and decide what we plan to do to improve it."
Several additional novels are expected to be published as part of the series by the end of the year.