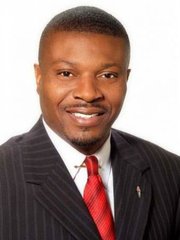 By DENISE MAYCOCK
Tribune Freeport Reporter
dmaycock@tribunemedia.net
FORMER State Finance Minister Zhivargo Laing told The Tribune that just as successful countries in the world have benefitted from the influx of progressive and productive immigrants, so can The Bahamas.
He noted that countries such as the United States, Canada and the United Kingdom have an open door to immigrants and have used their immigration policy to deliberately impact their cultural, economic, and social development.  
"I think that Bahamians ought to look at the world and see there is hardly a successful country in the world that has not had an open door to immigrants," said Mr Laing, an economic consultant.
Mr Laing said that Bahamians have also contributed to the countries as immigrants, as CEOs of major corporations in the US and heads of organisations in Canada.
"So our talents are being used to enhance the countries of other people," he said. "Well, you can't live in an open world where it is okay for you to be a contributor to others and benefit from the largesse of others, but say to everybody else don't come here to benefit from us – that is not our history."
Mr Laing said that The Bahamas has benefitted from people that have come here and lent their skills and talents in the education system, in economic and spiritual spheres.
He believes that there is a need for "leaders with courage" in the area of immigration. The former Cabinet minister in the Ingraham administration said that "in leadership there is always a choice of what is right and what is popular." 
He said that whenever governments become unpopular they start to be reactionary and panic and say whatever it takes to make the people happy again.  
"So if the people think that foreigners are the problem, then they say let's go after the foreigners … all in an attempt to pander to the population because you are unpopular and popularity is the currency of politics; it is money of politicians because it is the thing that gets him voted," Mr Laing said.   
"(They do) whatever it takes: chase down Haitians, chase down foreigners, offer jobs; whatever it takes because they need votes for the upcoming election."
The Bahamas has a large Haitian population.
The new immigration policy, implemented on November 1, 2014, has been criticised by international human rights organisations, such as Amnesty International, and Haitian-Bahamian advocates.
The new policy requires all non-Bahamians to have passports of their nationality and evidence that they have permission to live and work in The Bahamas. The Bahamas also will no longer issue certificates of identity to non-nationals born in The Bahamas, except in cases where Bahamians need emergency travel.  
The Department of Immigration is now also not accepting first-time applications for residency or work permits from people who have no legal status in The Bahamas.
Florida House of Representative Daphne Campbell, who is of Haitian heritage, is opposed to the new policy and the raids against Haitians living in The Bahamas by the Department of Immigration. She has held protests against The Bahamas.
Mr Laing said that leadership can be a difficult business. "Sometimes you know what is good for the people and you want to point them in a different direction you want them to go in, but it is their choice. And, sometimes, leaders not having the mindset of God to show them the right direction just decide that to take the direction of the people because they want their vote and that is not good for the country and the people.
"In leadership, it is often the choice of what it is right and what is popular. A man of conscience, of awareness and judgment will always try to do what is right and suffer unpopularity in the end," he said.