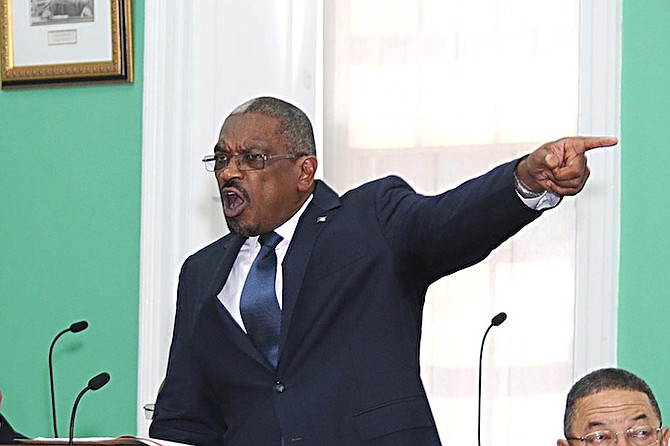 By SANCHESKA BROWN
Tribune Staff Reporter
sbrown@tribunemedia.net
FNM Leader Dr Hubert Minnis yesterday accused the government of decreasing the money allocated for National Health Insurance to "cover up the fact that they forgot" to include the Department of Public Health in 2015/2016 budget.
Dr Minnis said after close inspection of the Budget, he noticed that the government allocated $260m for the Ministry of Health. Of that money, Dr Minnis said $200m would go to the Public Hospitals Authority (PHA) and the remaining $60m would be used for National Health Insurance.
He said no money was allocated for Public Heath, which handles the government's clinics, port health, vaccinations and regulates the use of drug and pharmaceuticals.
Dr Minnis said when he asked the government in the House of Assembly why no money was budgeted for Public Health, he was told that the government will take $34 million from the budget for NHI and move it to Public Health, decreasing the budget for NHI from $60 million to $26 million.
He said this is just another example of how incompetent the Christie administration is.
"How are they supposed to run the public clinics in New Providence and the Family Islands? Right before the Budget was passed (in the House), I asked them around 4.15am, why there was no money for Public Health and I was told they were going to use some money from National Health Insurance," Dr Minnis said.
"So that would mean they gave us false information about NHI. NHI would only get $26 million and that is not enough money for NHI.

"This government is totally out of touch and has no idea how to govern. They are making serious errors. How can you leave an entire significant (area) like Public Health out of the budget? That is ridiculous. Are they going to come back to Parliament and ask for more money? That is embarrassing."
Earlier this month, State Finance Minister Michael Halkitis said NHI is to be phased in over a five-year period and is still on schedule for a January 2016 roll out. The government has allocated $60 million for NHI in the upcoming fiscal year.
In an earlier interview, Public Hospitals Authority Managing Director Herbert Brown said he was confident that the allocation was sufficient to take the country's health care system to another level. He told reporters that a substantial amount of the $60m allocation would be spent on infrastructure upgrades and improvements in the public health sector.